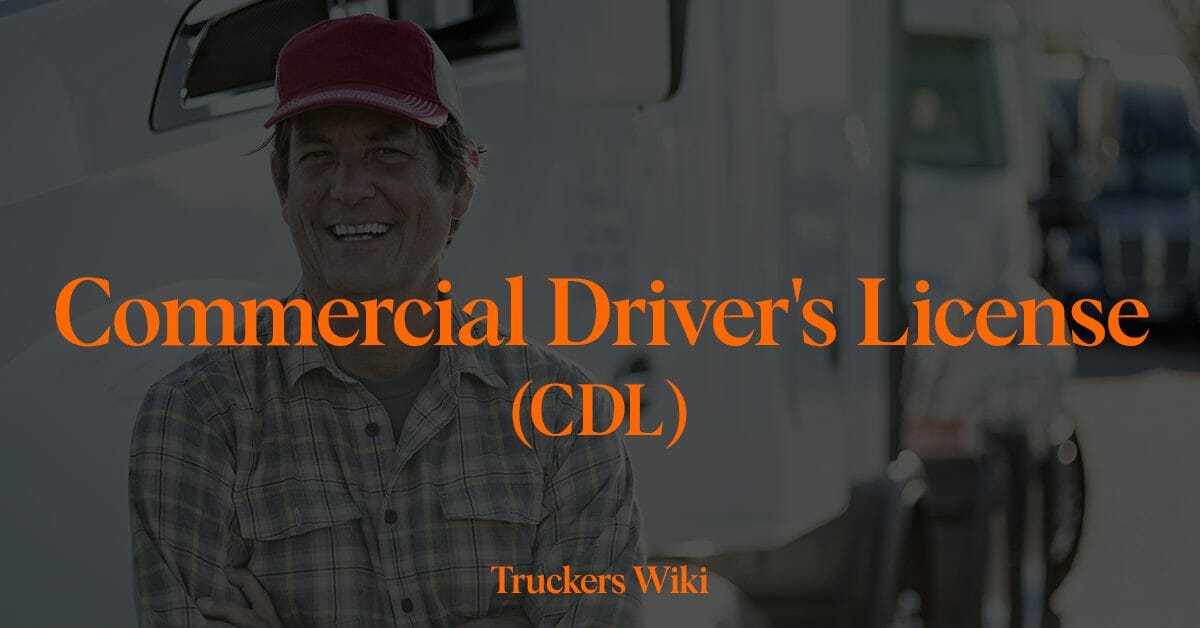 What is a Commercial Driver's License (CDL)?
A Commercial Driver's License CDL is a license that allows individuals to operate Commercial Motor Vehicles (CMVs). Such as semi-trucks, passenger buses, and vehicles transporting hazardous materials. Any vehicle used for business purposes that crosses state lines, or falls into specific weight, passenger, or hazardous material categories, is considered a commercial vehicle and requires a CDL to operate.
Why is a CDL Necessary?
Driving a commercial motor vehicle (CMV) requires a different set of skills and comes with a higher degree of responsibility due to the potential risks associated with their size and complexity.
Recognizing this, the U.S. Federal Government has implemented a special type of driver's license specifically for operators of CMVs, known as the Commercial Driver's License (CDL), which is a license for truck drivers.
A CDL ensures that drivers have the necessary training and understanding how to safely operate these vehicles.
The CDL also complies with federal regulations that aim to improve highway safety. Following a series of severe bus and truck accidents in the 1980s, the Commercial Motor Vehicle Safety Act of 1986 was established. This law made it illegal to operate a CMV without a CDL, improving safety on U.S. highways by ensuring that drivers of these vehicles are qualified.
Classes of CDLs
There are three different classes of CDLs — Class A, Class B, and Class C. Each class corresponds to a type of commercial vehicle that a driver can operate:
Class A: For driving a combination of vehicles (over 26,000 pounds with the towed vehicle over 10,000 pounds). Requires passing general knowledge and combination vehicles tests, and bringing a Class A vehicle to your road skills test

Class B: This allows a driver to operate any single vehicle with a Gross Vehicle Weight Rating (GVWR) of 26,001 pounds or more, or any such vehicle towing another not exceeding 10,000 pounds. Common Class B vehicles include buses, dump trucks, and straight trucks.

Class C: Class C licenses are for any single vehicle, or combination of vehicles, that does not meet the definition of Class A or Class B, but is either designed to transport 16 or more passengers, including the driver, or is transporting material that has been designated as hazardous.
CDL Endorsements
In addition to the different classes of CDLs, there are several endorsements that a driver can earn. These indicate that the driver is qualified to operate specific types of vehicles or carry certain kinds of cargo. These endorsements involve additional testing and include:
T – Double/Triple Trailers: This endorsement allows the holder to pull double or triple trailers.
P – Passenger: This endorsement allows the holder to operate passenger vehicles.
N – Tank vehicles: For the operation of tank vehicles.
H – Hazardous materials: For the transportation of hazardous materials.
X – Combination of tank vehicle and hazardous materials: A combination endorsement for driving tank vehicles that carry hazardous materials.
S – School Bus: This endorsement allows the holder to operate a school bus.
Here you will find a full list of endorsements, which class can have them and how to obtain them.
Obtaining a CDL
Obtaining a CDL requires passing a series of tests designed to ensure that drivers have the knowledge and skills necessary to safely operate a CMV. This includes a written knowledge test and a three-part skills test that includes a pre-trip vehicle inspection, a basic vehicle control test, and a road test.
Prior to taking the tests for a CDL, drivers must first obtain a Commercial Learner's Permit (CLP) by passing a written test. The CLP allows drivers to practice operating a CMV on public roads under the supervision of a CDL holder.
Click here to learn everything about CLP and how to obtain it.
After practicing with the CLP for a specified period (usually at least 14 days), drivers can take the CDL skills test. Once they pass, they can apply for the CDL at their local Department of Motor Vehicles (DMV). The application requires completing an application form, paying the necessary fees, and providing proof of identity, residency, and social security number. Drivers also need to submit their Department of Transportation (DOT) medical card, which proves they are physically capable of safely driving a commercial vehicle.
To learn more about CDL requirements click here.
Here are some tips on how to prepare for your CDL test.
CDL Requirements Checklist
While specific requirements vary for each CDL class (A, B, and C), some basic steps are common:
Age: Be at least 21 years old (18 for intrastate driving).
Training: Complete training from FMCSA-approved providers (for Class A or B).
Application: Submit your state's CDL application and pay the fee.
Documentation: Provide identity, Social Security number verification, and proof of state and US residency.
Medical Exam: Submit a Medical Examination Report Form and Medical Examiner's Certificate Form.
Vision Test: Pass this alongside your CDL exams.
Knowledge Exam: Successfully pass this test.
CLP Holding Period: Hold your CLP for at least 14 days before the skills test.
Road Skills Test: Pass a pre-trip inspection and the road skills and driving examination
Maintaining Your CDL
Once you have obtained your CDL, maintaining it requires regular renewals and adherence to any training or certification requirements. Each state sets its own renewal schedule, but most require renewal every four to eight years. Some states also require additional testing at the time of renewal.
CDL holders must also maintain a clean driving record. Serious traffic violations or involvement in accidents can lead to the suspension or revocation of the CDL. Some violations, such as driving under the influence of alcohol or drugs, carry mandatory disqualification periods for CDL holders.
CDL holders are also subject to federal regulations, including hours-of-service rules that limit the number of consecutive hours they can drive, and rules that require them to undergo regular physical examinations to maintain their DOT medical certification.
Do you need CDL to drive a box truck?
Can You Transfer CDL From State to State
If you move from one state to another you will have to transfer your Commercial Driver's License to the new state and turn in the old CDL. When you do this your personal driver's license (Class D) will become invalid.
Legally, you have to transfer your CDL to your new state of living within 60 days or sooner, if your CDL expires prior to those 60 days.
In Conclusion
Whether you're considering a career in trucking, bus driving, or any other field that requires the operation of CMVs, understanding what a CDL is and how to obtain one is the first step on your journey.
CDL is a crucial document for Driver Qualification File.
Here is an article on how long does it take to get a CDL.
Here is an article on How To Become a Truck Driver.
Do you need a CDL to drive a box truck?
Upgrading CDL Class B to Class A.
Learn about Medical Card DOT here.
Price of CLP & CDL In Each State.
Was this article helpful?