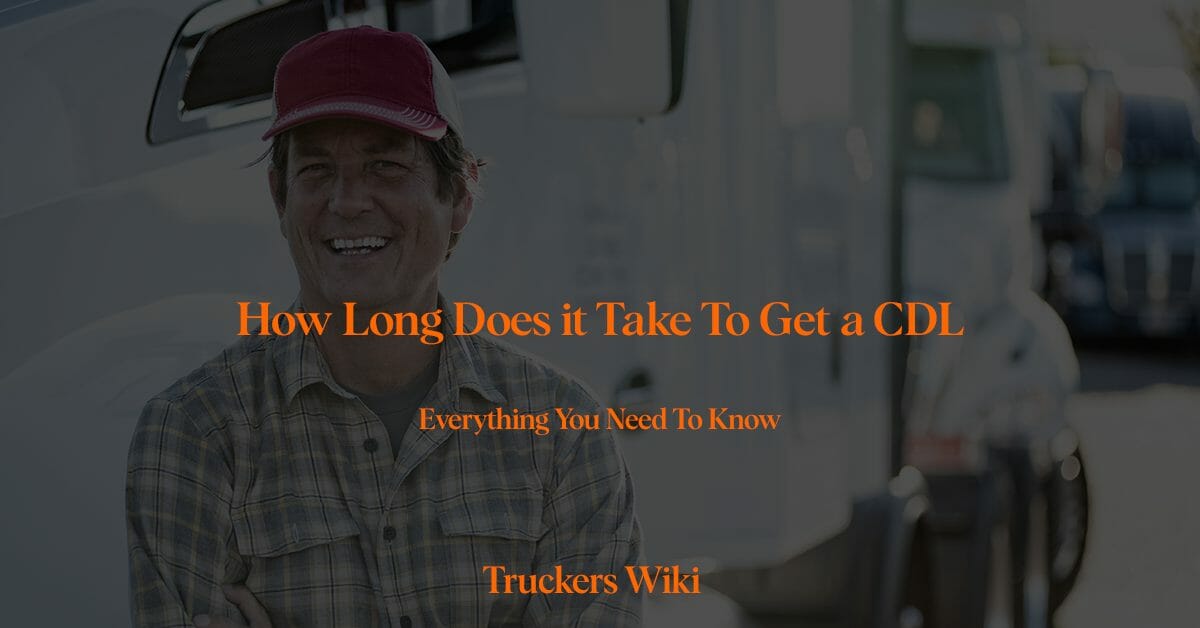 How Long Does it Take To Get a CDL
A common question we encounter at Truckers Wiki is, "how long does it take to get a CDL?" In general, it can take as little as 3 weeks or a month, but it can also take up to 5 or 6 months.
To get a better understanding of how long it takes to get a CDL in this article, we'll address this question and break down the process step-by-step and see how much time each step takes.

Steps to a CDL and The Time it Takes
Obtain Your Commercial Learner's Permit (CLP):
Before you get your CDL, you'll first need to get a Commercial Learner's Permit (CLP). To do this, you'll have to pass a general knowledge test.
The time it takes: Studying for these tests can take 2-3 weeks, depending on how quickly you learn and absorb the material.
CDL Training School:
Once you have your CLP, you'll need to enroll in a CDL training school. These programs, which provide both classroom learning and practical driving experience, can vary in length.
The time it takes: Most full-time courses run between 4-6 weeks, but part-time courses can take a couple of months.
Behind-the-Wheel Training:
After completing the CDL course, you'll need to gain some real-world experience.
The time it takes: At least 14 days of behind-the-wheel practice while holding a CLP before you're allowed to take the CDL driving test.
Doing the CDL Driving Test
Finally, you're ready to take your CDL driving test, which includes a pre-trip inspection, a skills test, and an on-road driving test. If you pass, you can then obtain your CDL.
So, How Long Does It Take to Get a CDL?
The answer to "how long does it take to get a CDL?" vary, but in general, you can expect the process to take anywhere from 1-3 months from start to finish.
This varies depending on multiple factors, including your personal learning pace, the specific requirements of your state, and the type of CDL you're pursuing.
It's important to remember that everyone's journey is different, and the goal should always be mastery and safety rather than speed. It is also important to pick a good CDL school.
A Couple of Tips to Help You Get Set
1. Start Studying Early:
The CDL process begins with a knowledge test for the Commercial Learner's Permit (CLP). Start studying for this test well before you plan to take it. The earlier you start studying the CDL manual, the sooner you'll be ready to pass the test.
Learn more about CLP here.
2. Choose the Right Training Program:
A super important aspect of this process is to look for a reputable CDL training program that fits your schedule and learning style. Some programs offer accelerated courses for those looking to get their CDL quickly. Be sure to research thoroughly to ensure the school provides comprehensive training despite the accelerated pace.
3. Consistent Practice:
Like any new skill, consistent practice is key. Regularly review your knowledge of safety rules and driving techniques. Additionally, get as much behind-the-wheel practice as possible. The more comfortable you are in the driver's seat, the better your chances of passing the CDL exam on your first attempt.
4. Prepare for the Pre-Trip Inspection:
The pre-trip inspection is a critical part of the CDL test where you'll need to show that you can inspect your vehicle to ensure it's safe to drive. Dedicate time to memorize the steps of a pre-trip inspection and practice them regularly.
Learn more about the Pre-Trip Vehicle Inspection here.
5. Consider Private Lessons:
If you're struggling with certain aspects of the training, consider hiring a private instructor for additional lessons. They can offer personalized guidance to help you conquer any challenges.
The Bottom Line
Obtaining a CDL is a significant milestone on the road to becoming a commercial truck driver. While the process requires time and dedication, the rewards – a flexible career, good pay, and the freedom of the open road – are often worth it. Stay patient, stay focused, and soon enough, you'll be joining the ranks of licensed commercial drivers.
Keep checking Truckers Wiki for more insights and tips on navigating your trucking career. Safe travels!
Quora article on the time it takes to acquire CDL
Listen to The Article Here
Was this article helpful?