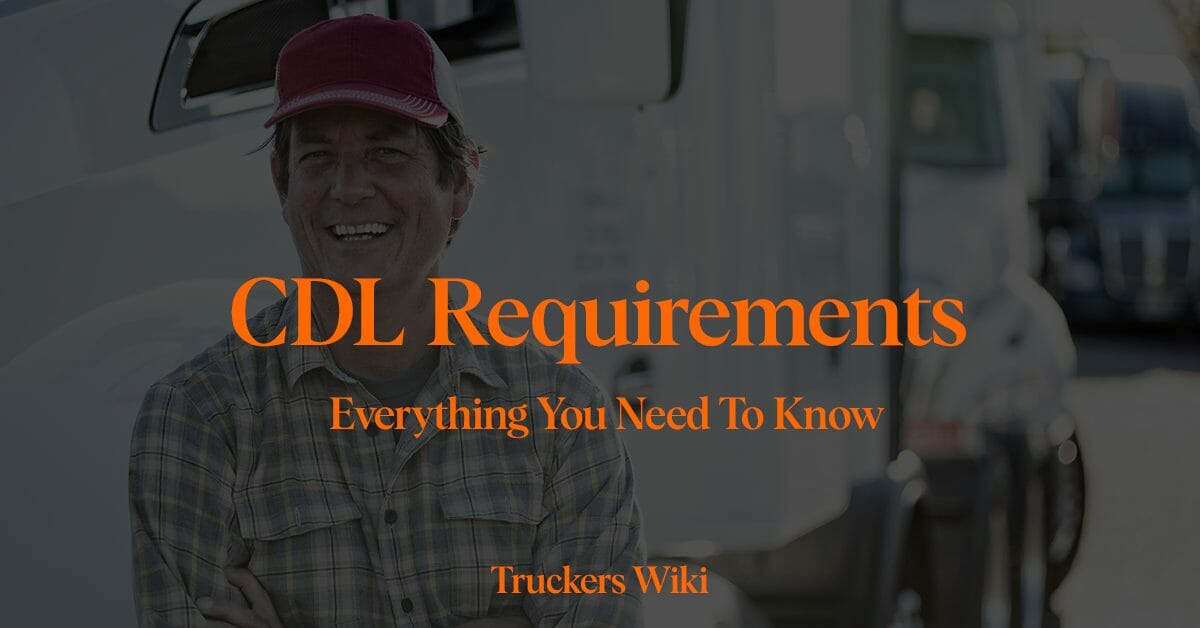 10 CDL Requirements
Commercial Driver's Licenses (CDLs) in the United States are issued by individual states according to federal guidelines established by the Federal Motor Carrier Safety Administration (FMCSA).
We compiled this list of CDL requirements – everything you need to know.
While specific requirements may vary slightly between states, there are general steps and requirements that apply nationwide. Here are all CDL requirements you should know about.
You can listen to this article at the bottom of the page.
10 Requirements to Obtain CDL
Age requirement
You must be at least 18 years old to obtain a CDL for intrastate driving (within the same state) and at least 21 years old for interstate driving (across state lines).
Residency and identification
You need to be a resident of the state in which you are applying for a CDL and provide proof of your identity, such as a valid driver's license, Social Security card, or birth certificate. 
Possess a valid driver's license
You must have a valid, non-CDL driver's license issued by your state of residence.
Pass a DOT medical examination
To ensure that you are physically qualified to operate a commercial vehicle, you must pass a Department of Transportation (DOT) medical examination and obtain a Medical Examiner's Certificate. 
Study for the CDL
Obtain a copy of your state's CDL manual and study the material relevant to the specific class of CDL you are seeking (Class A, B, or C). This will help prepare you for the written knowledge tests and skills tests.
Learn more about CDL Manual, what it is and where to get it here.
Pass the written knowledge tests
Depending on the type of CDL and endorsements you are seeking, you will need to pass one or more written knowledge tests. These tests cover general knowledge, air brakes, combination vehicles, hazardous materials, tanker vehicles, and other topics relevant to your desired CDL class and endorsements. 
Acquire a Commercial Learner's Permit (CLP)
After passing the required knowledge tests, you can obtain a Commercial Learner's Permit (CLP) from your state's licensing agency. This permit allows you to practice driving a commercial vehicle under the supervision of a CDL holder. 
Learn more about CLP here.
Complete CDL training
Many states and employers require formal CDL training from an accredited institution or a certified instructor. This training will help you gain hands-on experience with driving a commercial vehicle and prepare for the CDL skills test.
Pass the CDL skills test
To obtain a CDL, you must pass a skills test administered by your state's licensing agency or a third-party examiner. The test typically includes a pre-trip inspection, basic vehicle control, and on-road driving.
Pay applicable fees
The fees for CDLs and endorsements vary by state. You will need to pay these fees when applying for your CDL or adding endorsements.
Do You Need High School Diploma for CDL?
You don't need a high school diploma or GED to obtain a CDL. Individual trucking companies may have additional requirements for their drivers, which could include a high school diploma or GED. In addition, some vocational schools or training programs offering CDL classes may require a high school diploma or equivalent for enrollment.
Keep in mind that specific requirements and procedures may vary slightly depending on your state. Always check with your local Department of Motor Vehicles (DMV) or licensing agency for the most up-to-date information and requirements for obtaining a CDL in your state.
Let's talk about CDL classes, restrictions, endorsements and how to obtain them. Click the link below to learn about each.
Was this article helpful?