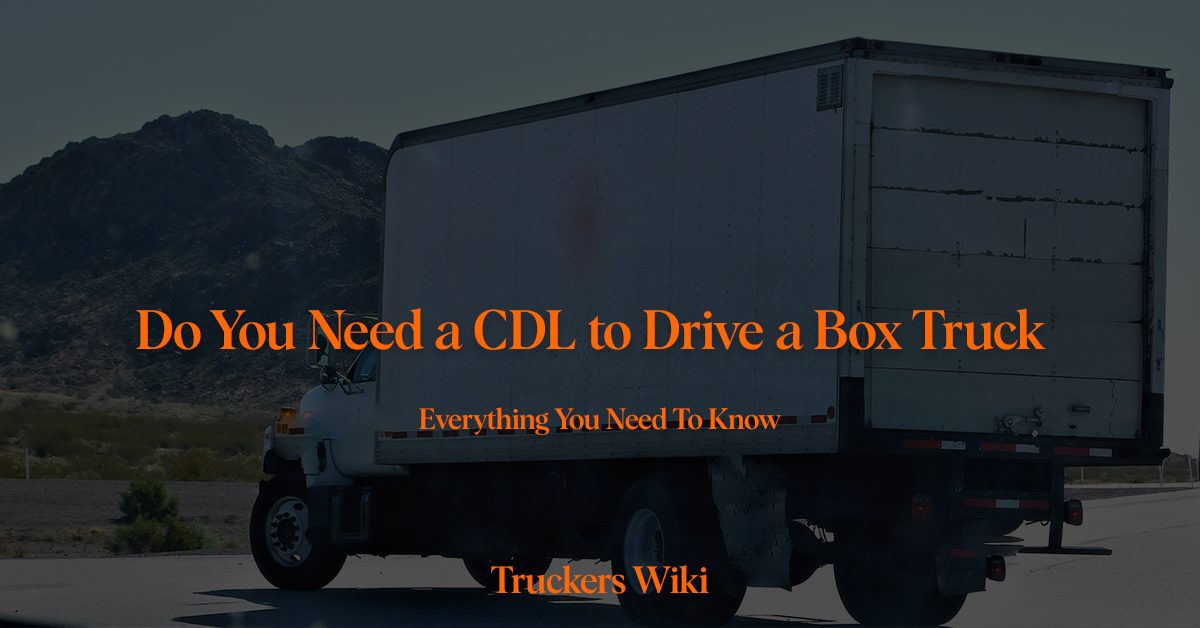 Do You Need a CDL to Drive a Box Truck?
In most cases no, you don't need a CDL to drive a box truck. To be more specific if the truck rating is 26,000 pounds or less you don't need a CDL and if the trucks rating is 26,001 pounds or more you DO need a CDL to operate it.
Updated in 2023.
What is Truck Rating and How Do I Check it?
Truck rating or GVWR is the maximum weight a vehicle can safely handle without risking damage. This weight includes the vehicle's own weight, plus the fuel, cargo, passengers, and any additional equipment loaded onto it. 
You can check truck gross vehicle weight rating (GVWR) inside the door jamb of the truck you want to operate or by searching Google.
The inside sticker lists the Gross Axle Weight Rating (GAWR) for both FRONT and REAR axles.
Add those two numbers together and that equals your GVWR.
So to summarize if the truck you want to operate has a GVWR of 26,001 pounds or more you will need a CDL, but if the truck you want to operate has a rating of 26,000 pounds or less you don't need a CDL to operate it.
Trucks that are 26,001 lbs or more are usually semi trucks that pull tractor trailers.

This link will take you to a GVWR calculator.
What CDL do You Need if the Truck Rating is 26,001 pounds or more
You will need a Class B if we are talking about a box truck, dump truck, tow truck or another type of commercial truck. 
If you want to operate a semi-truck pulling a semi trailer you will need Class A.

Certain states may have additional licensing requirements,  and it's essential to check local regulations.
Furthermore, if the box truck is used to transport hazardous materials that require placarding, a CDL with a HazMat endorsement would be necessary, regardless of the vehicle's weight.
Learn more about straight (box) trucks here.
Additional Requirements
Even if a commercial driver's license isn't required, professional box truck drivers must still comply with other FMCSA regulations. For example, if the truck is used for commercial purposes — that is, to transport goods for business — the driver must maintain a logbook if they travel more than 150 air miles from their work reporting location.
Learn more about the logbook here.
Health Requirements
All drivers of commercial motor vehicles must comply with certain health requirements. For instance, they must pass a DOT physical exam, which certifies that they're physically fit to operate a commercial vehicle. This examination covers various areas such as vision, hearing, cardiovascular health, and overall physical ability.
Learn more about Commercial Motor Vehicles here.
Usual Driver Qualifications
A prospective box truck driver must also meet certain driver qualification standards. These typically include having a clean driving record and being at least 21 years old if driving interstate (across state lines).
Some states allow intrastate (within a single state) commercial driving at a younger age, but the specifics vary by state.
Experience can also be a crucial factor. Even if a commercial driver's license is not required, employers often prefer drivers with prior experience driving similar vehicles. This is because driving a box truck requires skills beyond those needed for regular passenger vehicles, such as maneuvering in tight spaces and handling larger blind spots.
Insurance Considerations
Insurance is another important consideration for box truck drivers. Commercial vehicles generally require commercial auto insurance, which provides coverage for damage or injuries resulting from business-related operations. The required coverage level may be higher for commercial vehicles than for personal vehicles, and premiums are often higher as well.
Furthermore, if a box truck driver is an independent contractor or owner-operator, they may also need to consider cargo insurance, which covers the goods being transported, and liability insurance, which provides coverage if the driver is at fault in an accident.
Learn more about insurance here.
Conclusion
In conclusion, whether you need a commercial driver's license to drive a box truck depends on the GVWR of the truck and the nature of the goods being transported. Health requirements, driver qualifications, and insurance considerations also play a significant role. Understanding these requirements is crucial to ensuring regulatory compliance in the trucking industry. 
You don't need a CDL for a box truck that has a weight rating of 26,000 pounds or less.
Watch the video - Do you need a CDL to drive a box truck
Listen to this article here
Was this article helpful?