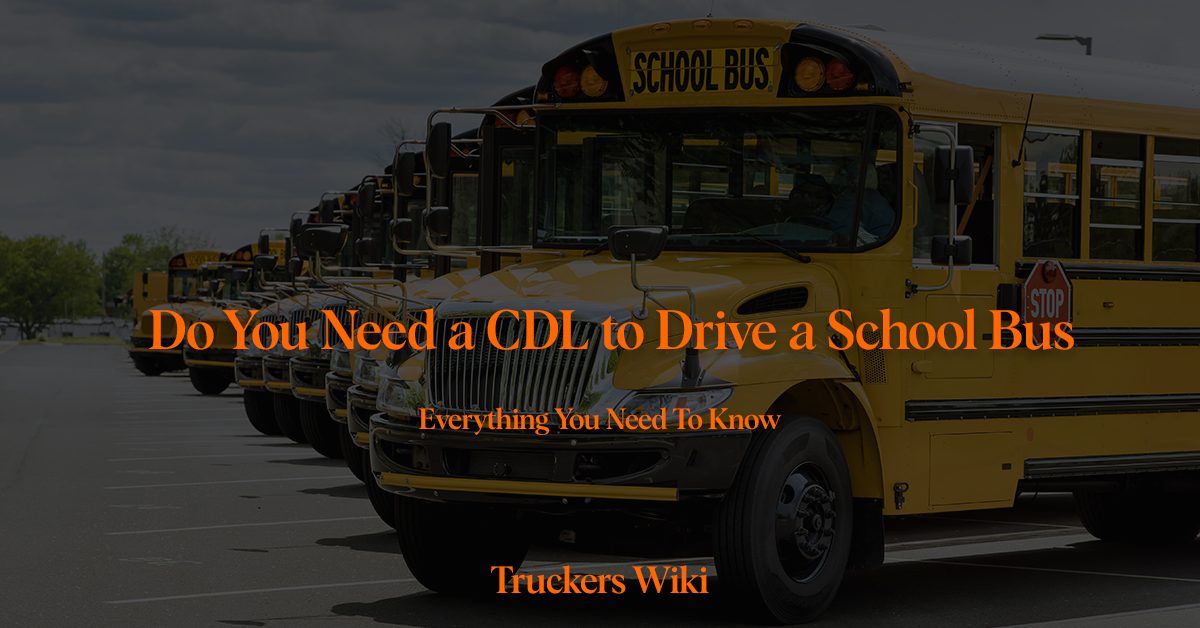 Do You Need a CDL to Drive a School Bus?
Yes, you do need a CDL to drive a school bus in the United States. According to regulations set by the Federal Motor Carrier Safety Administration (FMCSA), anyone who operates a commercial motor vehicle (CMV) such as a school bus must hold a valid CDL.
So to drive a bus you do need a CDL – typically a Class B – along with specific endorsements such as Passenger Endorsement and School Bus Endorsement.
Keep reading here is everything you need to know!
If you want to drive a skoolie check point 7 of the article.
What Type of CDL Do You Need for School Bus
There are different classes of CDLs depending on the type and size of the vehicle being driven. For school buses, drivers usually require a Class B CDL. This is because a Class B CDL permits the driver to operate a single vehicle with a gross vehicle weight rating (GVWR) of 26,001 pounds or more, or any such vehicle towing a vehicle not exceeding 10,000 pounds GVWR.
Additional Endorsements
In addition to the CDL, as a school bus driver, you will need to obtain specific endorsements that demonstrate their ability to operate a school bus safely. These include:
Passenger (P) Endorsement: This endorsement is required to transport passengers. The process of obtaining this endorsement involves both a knowledge test and a skills test.

School Bus (S) Endorsement: A school bus endorsement is also required. To get this endorsement, you need to pass a driving test in a school bus and a knowledge test covering specific rules and regulations for school buses.
Becoming a School Bus Driver Step by Step
Apply for a Commercial Learner's Permit (CLP): After acquiring a regular license, the next step is to apply for a CLP. This involves passing a general knowledge test, as well as other tests for any endorsements you'll need. To apply for CLP you must have a regular driver's license.
Learn more about CLP here.

Undergo CDL Training: Many prospective school bus drivers enroll in CDL training programs. These programs help prepare you for the CDL test and typically include both classroom and hands-on instruction.

Obtain a CDL: Once you've passed the tests and met all other requirements, you can apply for a CDL. For school bus drivers, a Class B CDL, along with P and S endorsements, is usually required.

Complete Additional Training: After obtaining a CDL, many school bus drivers must complete additional training specific to their job. This can include training on student behavior management, emergency procedures, and specific state regulations related to school bus operation.

Undergo a Background Check and Drug Testing: Before you can start working as a school bus driver, you'll likely need to pass a background check and drug test. These are typically required by employers to ensure the safety of the students.

Obtain Employment: Finally, once you've completed all the necessary training and passed all required tests and checks, you can start working as a school bus driver.
Learn About CDL and Endorsements
If you are interested in becoming a driver these pages will help you:
Here is everything you need to know about CDL Class B, one you will probably need to drive a schools bus.

Everything about P – Passenger endorsement and how to get it.
Everything about School Bus (S) Endorsement and how to get it.
Learn more about CDL's and classes here.
FMCSA regulations on school buses.
In addition to obtaining a CDL with the appropriate endorsements, prospective school bus drivers must also meet other criteria. For instance, they must have a clean driving record and some areas may require that you have never had a suspended license. A history of serious traffic violations can disqualify a candidate from obtaining a CDL or from being hired as a school bus driver.
Furthermore, FMCSA regulations require school bus drivers to be at least 21 years old to drive across state lines, although states can set lower age limits for driving within one state. Also, all school bus drivers must pass a physical examination, typically referred to as a DOT Medical Examination, every 24 months. This examination ensures that the driver is physically capable of operating a commercial vehicle safely.
Training is another crucial aspect of becoming a school bus driver. This usually includes both classroom instruction and behind-the-wheel training. Topics covered may include student behavior management, emergency procedures, and the specific laws and regulations related to school bus operation in the driver's state.
In addition to these federal requirements, many school districts or bus companies have their own requirements for school bus drivers. These might include background checks, drug and alcohol testing, and additional training or certification.
Do You Need a CDL to Drive a Skoolie?
In most states no.
In general, if the bus is no longer being used for commercial purposes and does not have the capacity to transport 16 or more passengers (including the driver), it may not require a Commercial Driver's License (CDL) to operate it. However, some states might still require a CDL or a special class of license, depending on the vehicle's size and weight.
Transforming a school bus into a recreational vehicle (RV) or a "Skoolie," as they are often called, has become increasingly popular. 
The regulations can vary widely, so it's essential to check with the Department of Motor Vehicles (DMV) in your specific state or the country where you plan to drive the bus. Also, note that you may need to update the title and registration of the bus to reflect that it is now an RV.
Before embarking on a journey in your school bus-turned-RV, it's recommended that you acquire the proper training to handle such a large vehicle, especially if you don't have prior experience driving large or heavy vehicles. This is both for your safety and the safety of others on the road.
GreatOutdoorWorld is a good source when it comes to recreational vehicles.
Lastly, you'll want to ensure that you have the proper insurance coverage for your vehicle. The type and amount of insurance needed can vary based on the vehicle's use and its features, so it's a good idea to consult with an insurance professional to ensure you have appropriate coverage.
Do You Need a CDL to Drive a School Bus - Watch the Video
You can listen to the article here
Was this article helpful?