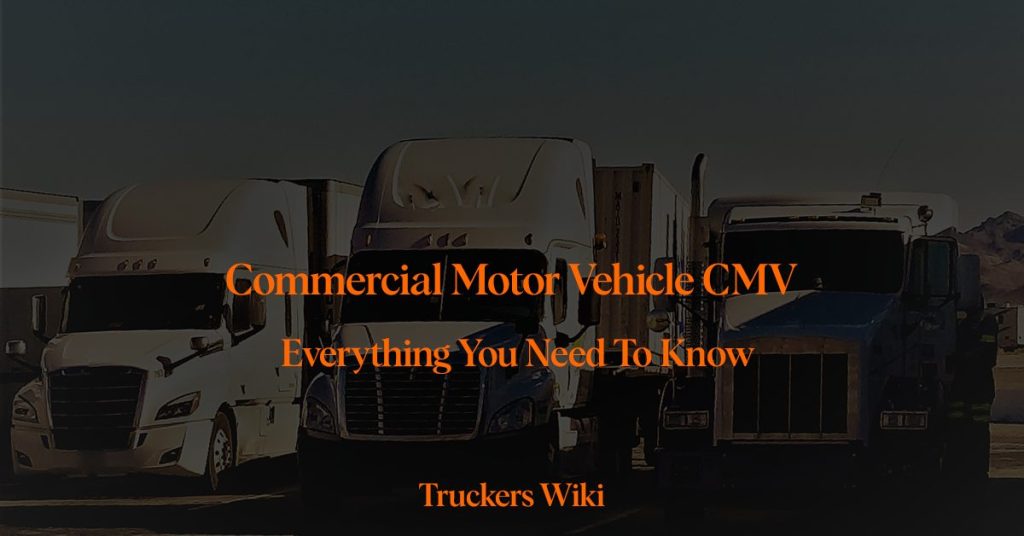 What is a Commercial Motor Vehicle CMV
A Commercial Motor Vehicle CMV is defined by the FMCSA as a vehicle used in commerce to transport passengers or cargo, such as semi trucks and buses. CMVs play an essential role in the country's economy, facilitating the delivery of goods and services across vast distances.
Definition and Types of Commercial Motor Vehicles
The FMCSA broadly defines a CMV as a vehicle that fits any of the following criteria:
Has a gross vehicle weight rating (GVWR) or gross combination weight rating (GCWR) of 10,001 pounds or more.
Is designed to transport more than 8 passengers (including the driver) for compensation.
Is designed to transport more than 15 passengers (including the driver) and is not used to transport passengers for compensation.
Is used in transporting material found by the Secretary of Transportation to be hazardous under 49 U.S.C. 5103, and transported in a quantity requiring placarding under regulations prescribed by the Secretary under 49 CFR, subtitle B, chapter I, subchapter C.
Types of CMVs
Types of CMVs can range from Semi-Trucks (Tractor-Trailers), Box Trucks, Delivery Vans, Dump Trucks, Flatbed Trucks, Refrigerated Trucks (Reefers), Tanker Trucks, Bus, Tow Trucks, Car Haulers, Utility Trucks, Construction Vehicles and Garbage Trucks. This category also includes specialty vehicles such as tank trucks and vehicles transporting hazardous materials.
Regulations and Oversight
The FMCSA provides oversight and regulation for CMVs to promote safety in the industry. Regulations cover a broad range of topics, including driver qualifications, hours of service (HOS), vehicle maintenance, cargo securement, and transportation of hazardous materials. Drivers operating CMVs are typically required to hold a Commercial Driver's License (CDL), with specific endorsements needed for certain types of vehicles and cargo.
Safety Standards and Inspections
CMVs are subject to strict safety standards due to their size, weight, and often the nature of their cargo. These vehicles are regularly inspected to ensure they meet the standards set by the FMCSA. Inspections can occur at fixed weigh stations, at the carrier's terminal, or during roadside checks by law enforcement. These inspections cover various aspects of the vehicle, including brake systems, cargo securement, lighting, tires, and driver qualifications.
Impact on Infrastructure
Due to their size and weight, CMVs have a significant impact on the nation's infrastructure, particularly roads and bridges. Consequently, specific routes are designated for CMV use, and restrictions are in place for certain bridges and tunnels. The management of CMV traffic is a crucial aspect of infrastructure planning and maintenance.
Driver Training and Licensing
Operating a CMV requires specific skills and knowledge, not just regarding the mechanics of driving, but also in relation to safety regulations, handling cargo, and dealing with emergencies. Consequently, drivers must undergo comprehensive training before they can legally operate a CMV.
To drive a CMV, an individual usually needs a Commercial Driver's License (CDL). The CDL program establishes standards for testing and training, ensuring that drivers are qualified to operate a CMV. There are different classes of CDLs depending on the type of vehicle being driven, and special endorsements may be required for certain types of cargo, such as hazardous materials.
Requirements for CDL.
Technological Advancements in CMVs
Technology plays an increasing role in the operation of CMVs. Technological advancements can enhance safety, improve efficiency, and contribute to the overall performance of the vehicle.
Examples include advanced driver-assistance systems (ADAS), like collision avoidance systems and lane departure warnings, which can reduce the likelihood of accidents. GPS navigation systems help drivers plan efficient routes, while telematics allows for the tracking and monitoring of vehicle performance, and driver behavior, which can be critical for fleet management.
Moreover, the emerging field of autonomous driving technology is set to revolutionize the CMV industry. Self-driving trucks are currently in development and testing phases and have the potential to significantly impact logistics and transportation in the future.
Listen to the article here
Was this article helpful?