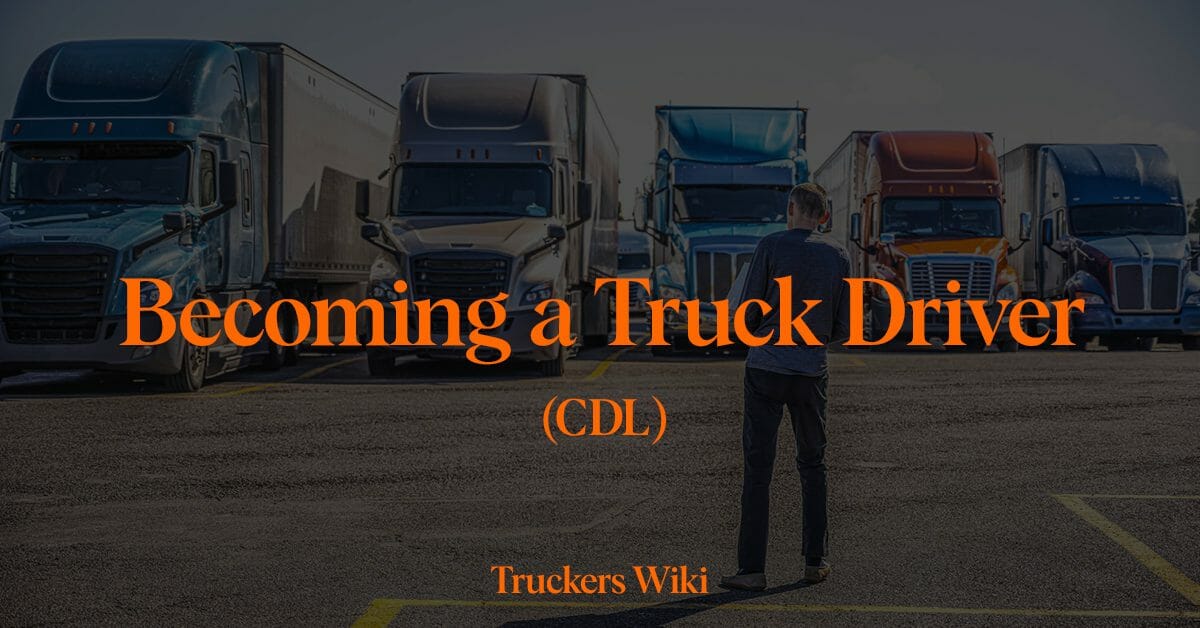 If you ever wondered how to become a truck driver this article will take you through the essential steps.
In a country where transportation is the backbone of commerce, truck drivers play a key role in keeping freight moving across the United States. If you've ever dreamed of hitting the open road, exploring new horizons, and embarking on a career that offers independence and adventure, becoming a truck driver may be the perfect path for you. This article will cover all the steps for becoming a truck driver in the USA. Here are all the necessary steps, requirements, and considerations.
So buckle up, as we explore the road to becoming a truck driver in the USA and unlock the possibilities that lie ahead.
You can listen to this article.
7 Essential Steps to Become a Truck Driver
Obtain a commercial driver's license (CDL):
To drive a commercial truck, you'll need to obtain a CDL. You can get a CDL by passing a written exam and a driving test. CDL requirements vary by state, but generally, you'll need to be at least 18 years old to drive within your state and 21 years old to drive across state lines. The written exam will test your knowledge of trucking regulations, safety procedures, and other important topics. The driving test will evaluate your ability to operate a commercial vehicle safely.
Get training:
To prepare for the CDL exams and learn the necessary skills to become a truck driver, you may choose to enroll in a truck driving school. These programs vary in length, but typically last between 3-6 weeks. Truck driving schools offer training programs that can prepare you for the CDL exams and provide you with the necessary skills to operate a commercial truck. These programs vary in length and cost, but most cover topics such as vehicle inspection, driving techniques, and safety procedures.
Pass a physical exam: 
You will need to pass a physical exam to demonstrate that you are physically able to drive a truck safely. To become a truck driver, you'll need to pass a physical exam that meets the requirements set by the Department of Transportation (DOT). The exam will evaluate your vision, hearing, blood pressure, and other factors that could affect your ability to drive safely.
Find a job:
Once you have your CDL, you can start looking for a job as a truck driver. There are many types of truck driving jobs available, including local, regional, and long-haul Over-The-Road routes. There are many companies that hire truck drivers, including trucking companies, delivery services, and government agencies. You can search for jobs online, attend job fairs, or contact companies directly to inquire about job openings.
If you are looking for your first job check out:  Landing Your First Job (Fresh Out Of School)
Gain experience:
Being fresh out of school will reduce the number of jobs you will qualify for, but there are companies that hire new drivers. Your best bet is to start at a local position and move to regional or OTR if that is what you are aiming for. It's important to gain experience as a truck driver. Many companies require a certain amount of experience before hiring, and the more experience you have, the more job opportunities may become available to you.
Maintain your CDL:
To keep your CDL, you will need to meet certain requirements, such as completing regular medical exams and renewing your license periodically. 
Get Endorsements:
Having endorsements on your CDL will greatly improve your career path as you will be eligible for more jobs that usually pay more. 
To learn more about endorsements click here.
Also here is a very cool video by High Strung Vlogs titled: Things you need to know before getting your CDL 
Other Side of The Medal
Truck driving can be a challenging job that requires long hours on the road and time away from home. It's important to consider the demands of the job and the impact it may have on your personal life before pursuing a career as a truck driver.
Let's talk about CDL classes, endorsements, and how to obtain them. Click the link below to learn about each.
Was this article helpful?