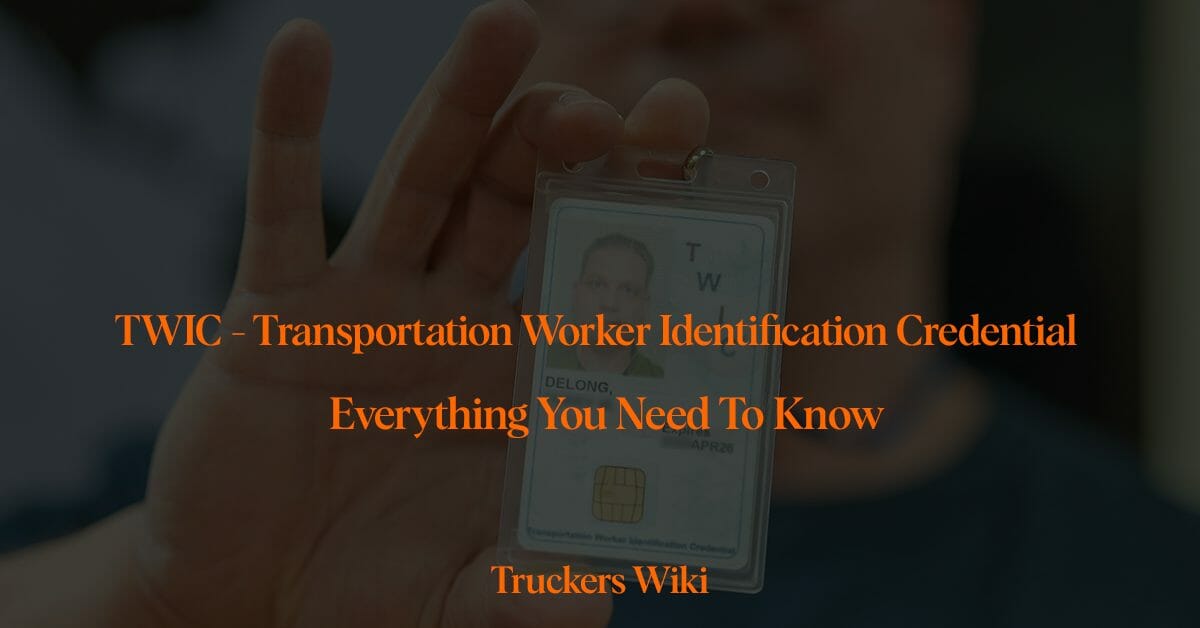 What is TWIC card for truck drivers?
TWIC card, or Transportation Worker Identification Credential, is a biometric security card issued by the Transportation Security Administration (TSA) of the United States. It is designed to grant access to secure areas of the nation's maritime facilities and vessels to individuals who require unescorted access for their job, such as truck drivers, longshoremen, port employees, and certain maritime workers. After learning what is a TWIC card for truckers, let's take a look at the breakdown of what is required to obtain a TWIC card Step-By-Step and how much does it cost.
Do Truckers Need TWIC
A Transportation Worker Identification Credential card is required for workers ie. trucking company truck drivers who need access to secure areas of the nation's maritime facilities and vessels. TWIC is regulated by the Transportation Security Administration (TSA) and the U.S. Coast Guard.
In the context of the trucking industry, TWIC cards are typically needed by truck drivers who pick up or deliver loads to seaports, longshoremen, mariners, and others requiring unescorted access to secure maritime facilities. 
This card ensures that these individuals have passed a TSA security threat assessment. It's a form of ID that ensures people can be tracked and traced in secure areas.
If a trucker is not working in these specific conditions (ports, handling HAZMAT, etc.), they likely will not need a TWIC card. As of my knowledge cutoff in 
To obtain a TWIC card, follow these steps
Determine eligibility: You must be a U.S. citizen, lawful permanent resident, or hold a valid non-immigrant visa with authorization to work in the United States. Certain criminal convictions or immigration violations may also disqualify you from obtaining the card.

Complete the online application: Visit the TSA's Universal Enrollment Services website (https://universalenroll.dhs.gov/) to fill out the online application form, which includes personal information, employment details, and other required data.

Schedule an appointment: After submitting the application, schedule an in-person appointment at a TSA-approved enrollment center. You can find the nearest enrollment center through the TSA's website.

Attend the appointment: Bring the required documents, such as a valid government-issued photo ID and proof of citizenship or immigration status, to your appointment. You will be fingerprinted and have your photo taken at the enrollment center.

Pay the fee – the price of the TWIC card: The TWIC card application comes with a fee, which can be paid during the appointment using a credit card, money order, or company check. The usual cost for a new TWIC card is about $125, but this may change over time. If you hold a valid Hazardous Materials Endorsement (HME) or a Free and Secure Trade (FAST) card, you may pay a reduced fee of $93.00.

Await the results: If approved, you will receive your card via mail within 4-6 weeks from the moment you apply.
Documents Required for Truck Driver Transportation Worker Identification Credential
Proof of Identity: This could be a driver's license, a state identification card, or any other government-issued form of identification that contains a photo of the person to whom it was issued.

Proof of Citizenship or Immigration Status: This might include a U.S. Passport, a Certificate of U.S. Citizenship, a Permanent Resident Card, or an Alien Registration Receipt Card for non-U.S. citizens. Non-U.S. citizens may also need to provide a Visa, I-94 Arrival/Departure record, or other documents proving lawful admission into the U.S.
Check out State Department on proof of citizenship here.

Proof of Social Security Registration: A Social Security card is typically required as proof of registration. However, in the absence of a Social Security card, you may be able to use other documents that include your Social Security number.
Learn more about Proof of Social registration here.
Disqualifications for a TWIC Card
The Transportation Security Administration lists a number of permanently disqualifying criminal offenses. A conviction for any of these offenses will result in a permanent disqualification from obtaining a TWIC card, irrespective of how long ago the conviction occurred. 
Permanent Disqualifications
These offenses include:
Espionage or conspiracy to commit espionage.
Sedition or conspiracy to commit sedition.
Treason or conspiracy to commit treason.
A federal crime of terrorism as defined in 18 U.S.C. 2332b(g), or comparable state law, or conspiracy to commit such crime.
Improper transportation of a hazardous material under 49 U.S.C. 5124 or a comparable state law.
Unlawful possession, use, sale, distribution, manufacture, purchase, receipt, transfer, shipping, transporting, import, export, storage of, or dealing in an explosive or explosive device.
Interim Disqualifications
Certain crimes, while not leading to permanent disqualification, may result in an interim disqualification if the conviction occurred within seven years of the TWIC application date, or if the applicant was released from incarceration within five years of the application date. Some of these offenses include:
Unlawful possession of a firearm or other weapon.
Extortion.
Fraudulent entry into a seaport as described in 18 U.S.C. 1036, or a comparable state law.
Robbery.
Immigration violations.
Distribution, possession with intent to distribute, or importation of a controlled substance.
Appeals and Waivers
Even with a disqualifying criminal offense, as a felon applicants have the right to appeal or apply for a waiver under certain circumstances. The appeal process is appropriate if you believe the TSA has made an error in their assessment of your criminal history. On the other hand, a waiver may be granted for specific disqualifying factors on a case-by-case basis at the TSA's discretion.
While certain criminal offenses can disqualify a truck driver from obtaining a TWIC card, it is essential to understand that each situation is unique and may warrant further exploration. If you are concerned about your eligibility, consider consulting with legal counsel or contacting the TSA directly for personalized advice.
How Long is TWIC Valid For?
The card is generally valid for five years. When it expires, cardholders must renew their credentials if they still require unescorted access to secure areas of maritime facilities and vessels.
There might be circumstances where a card could become invalid before the five-year expiration. For example, if a cardholder's security threat assessment status changes or if the card is lost or stolen, it could become invalid before the five-year period. Therefore, it is crucial to keep your TWIC card secure and inform the Transportation Security Administration immediately if it's lost or stolen.
The History of TWIC & It's Importance for Security
The Transportation Worker Identification Credential, or TWIC, has its roots in the heightened security measures implemented in the wake of the attacks on September 11, 2001. Recognizing the need to bolster the security of the nation's transportation system, the U.S. Congress passed the Maritime Transportation Security Act (MTSA) in 2002. This act laid the groundwork for the TWIC program.
The Transportation Worker Identification Credential program was developed by the Transportation Security Administration (TSA) and the U.S. Coast Guard. The goal was to ensure that individuals who pose a threat do not gain unescorted access to secure areas of the nation's maritime facilities and vessels. By having a common identification credential for all personnel requiring this access, the program aimed to enhance port security.
The rule to implement the card program was initially proposed in 2006 and the final rule was published in January 2007. Following this, the first enrollment began in October 2007 at the Port of Wilmington, Delaware. This kicked off a phased enrollment plan, with ports across the U.S. gradually introducing the TWIC program over the subsequent months.
The card itself is a tamper-resistant "Smart Card" that contains the cardholder's name, photo, and biometric information, usually fingerprints. The process to get a card involves a security threat assessment by the TSA, which includes checks against criminal, immigration, and terrorist databases.

Remember to regularly check the TSA website for updated information on TWIC card requirements and procedures, as they may change over time.
Interested in getting a CDL? Lear more about Commercial Driver's Licenses here.
As of 2023 TWIC card will cost you $125. However you have a valid Hazardous Materials Endorsement or a Free and Secure Trade card, you will pay a reduced fee of $93.00.
According to TSA.
It takes from 4 to 6 weeks from the moment you apply to get your Transportation Worker Identification Credential card.
There are certain disqualifying felonies that might stop you from obtaining TWIC if you are a felon. Learn about them in this article.
Listen to The Article Here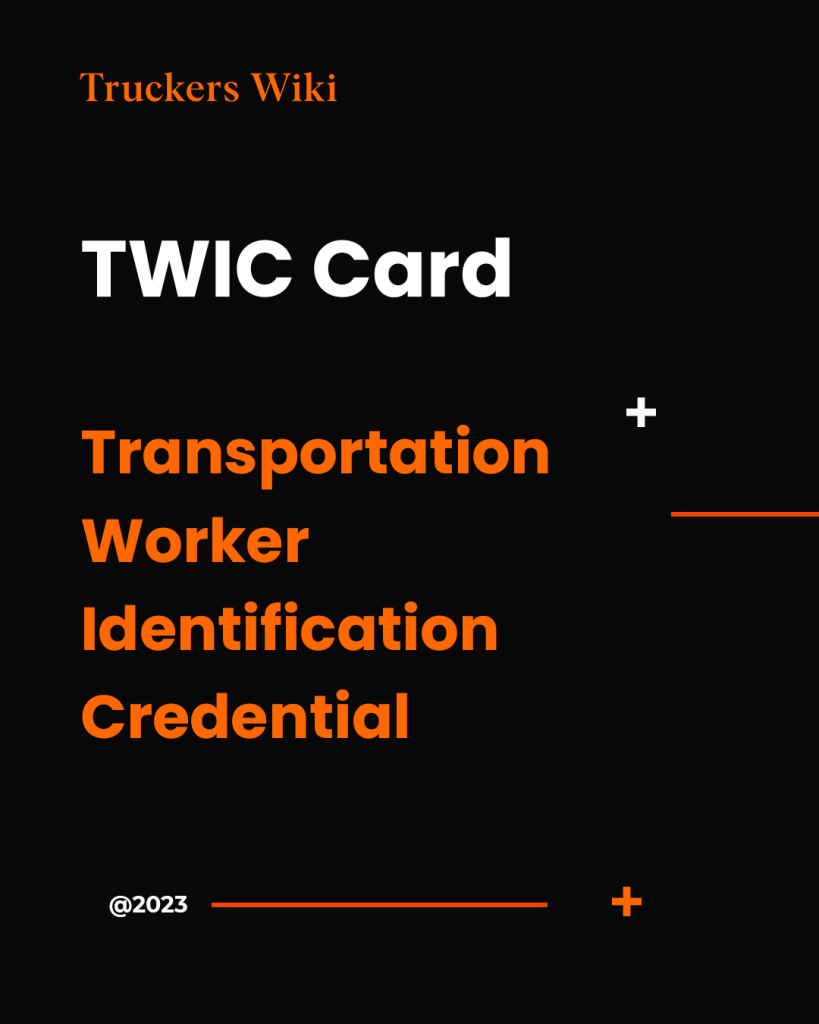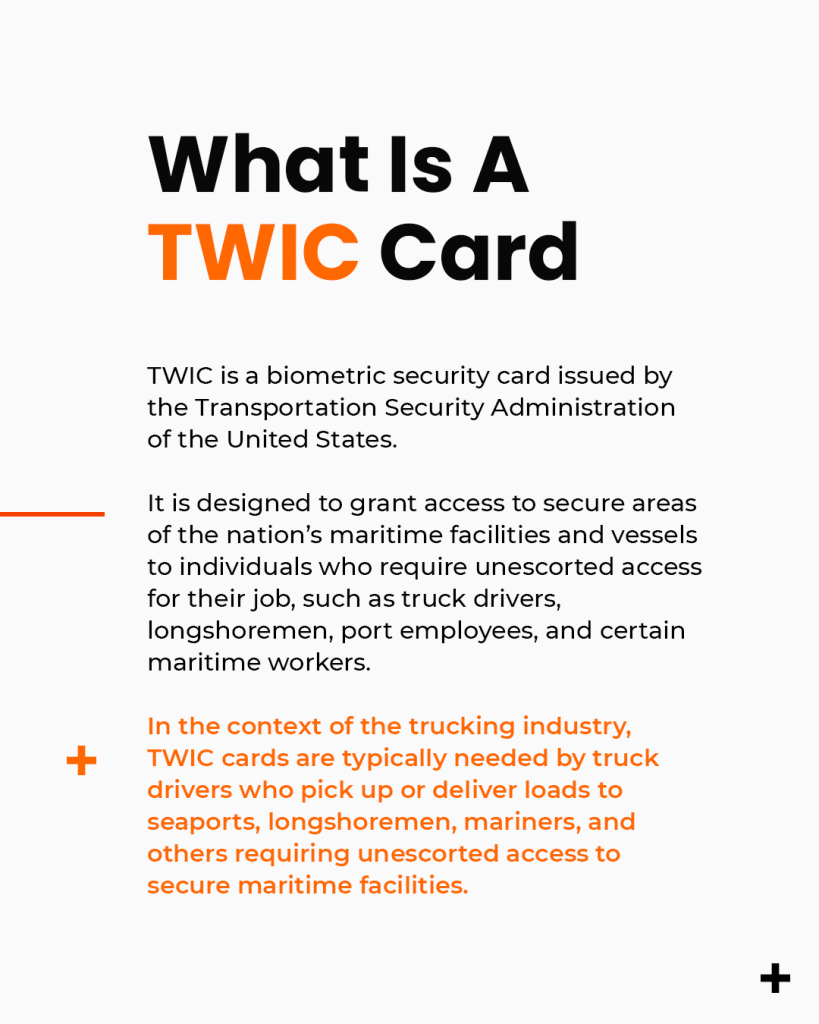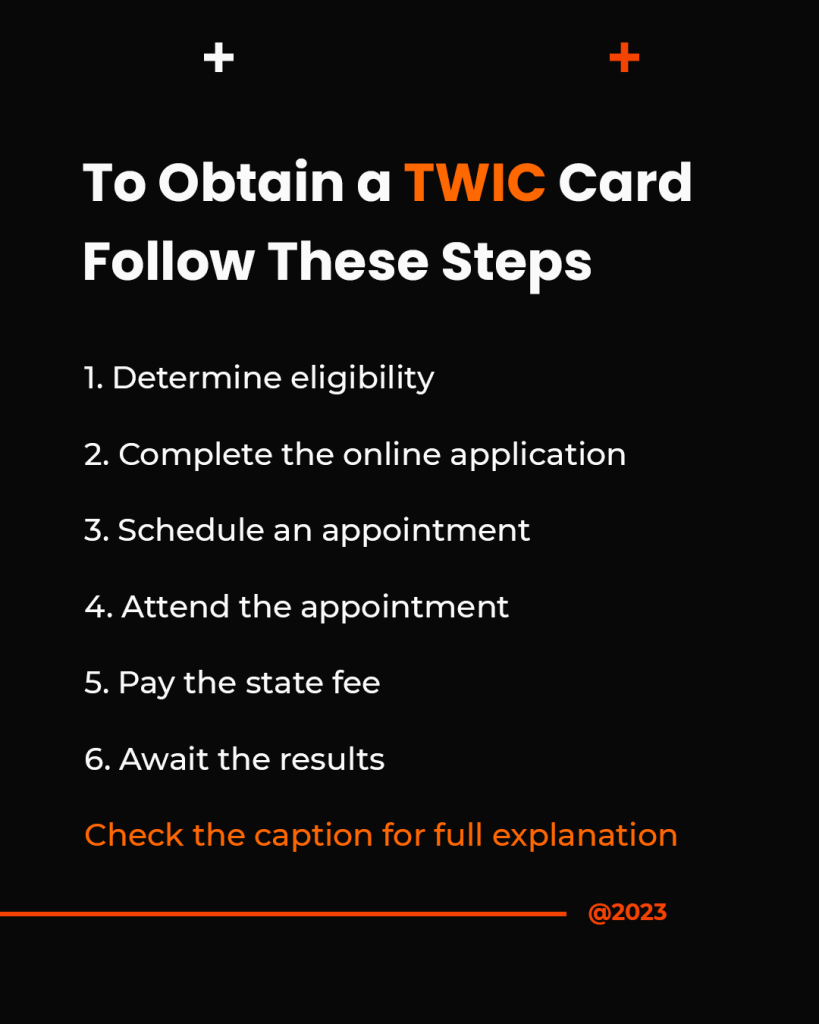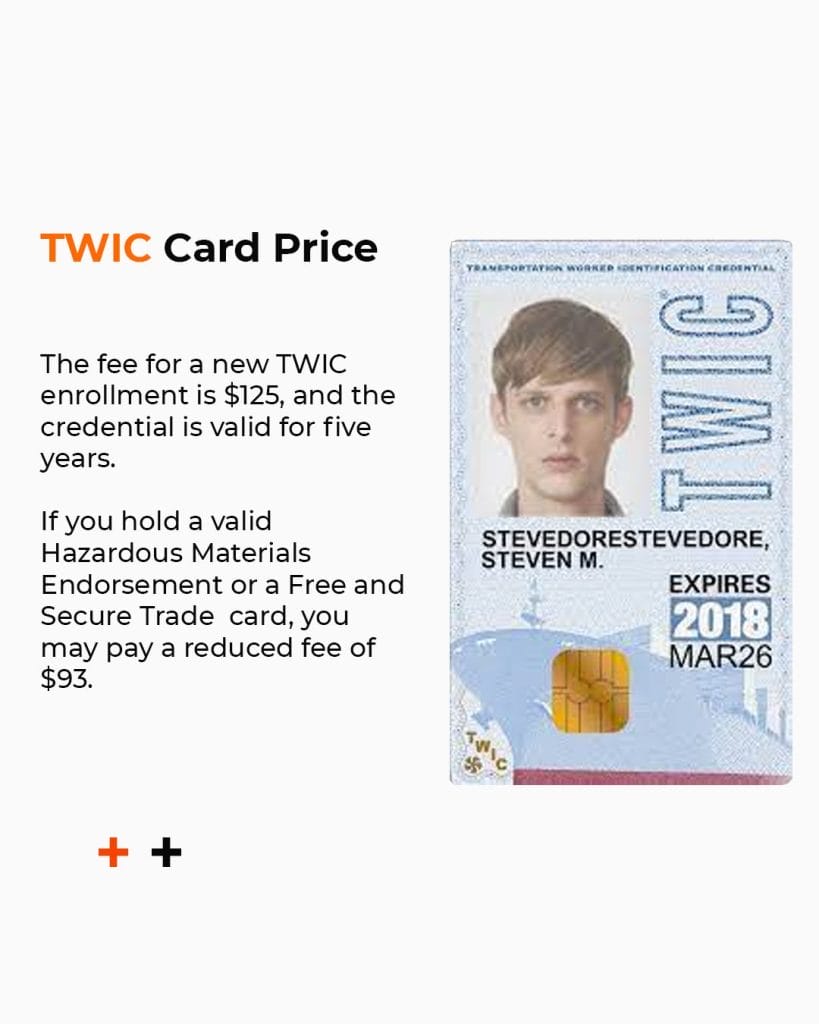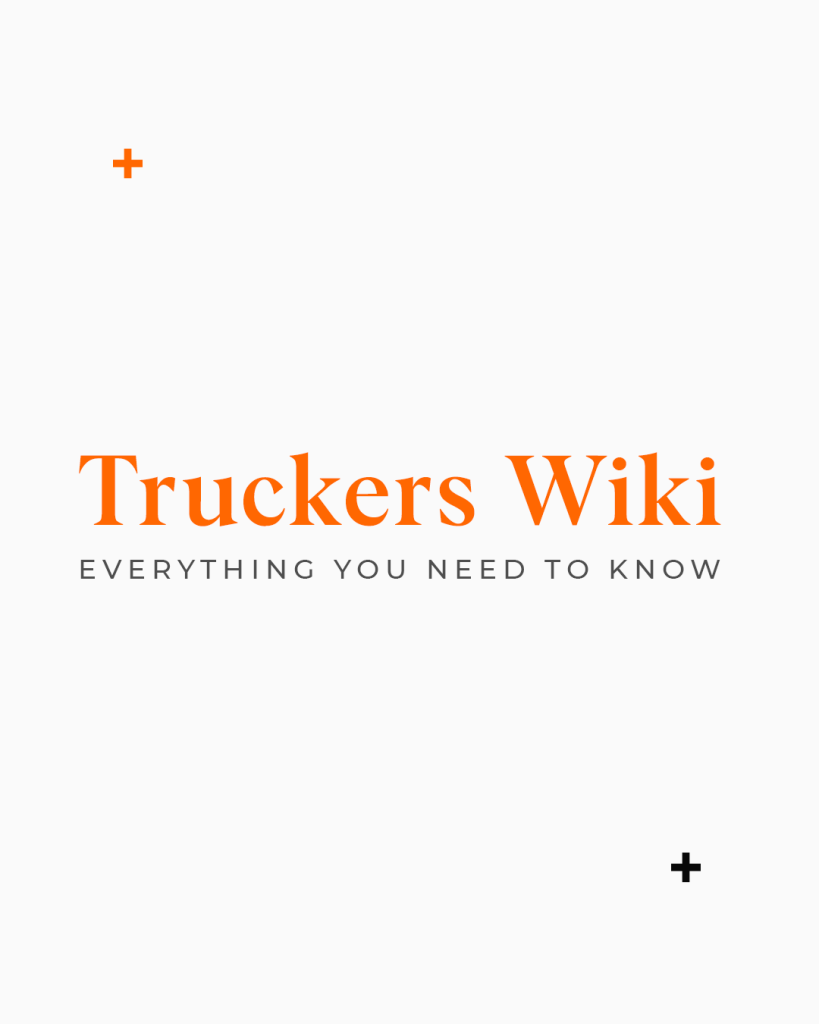 Was this article helpful?