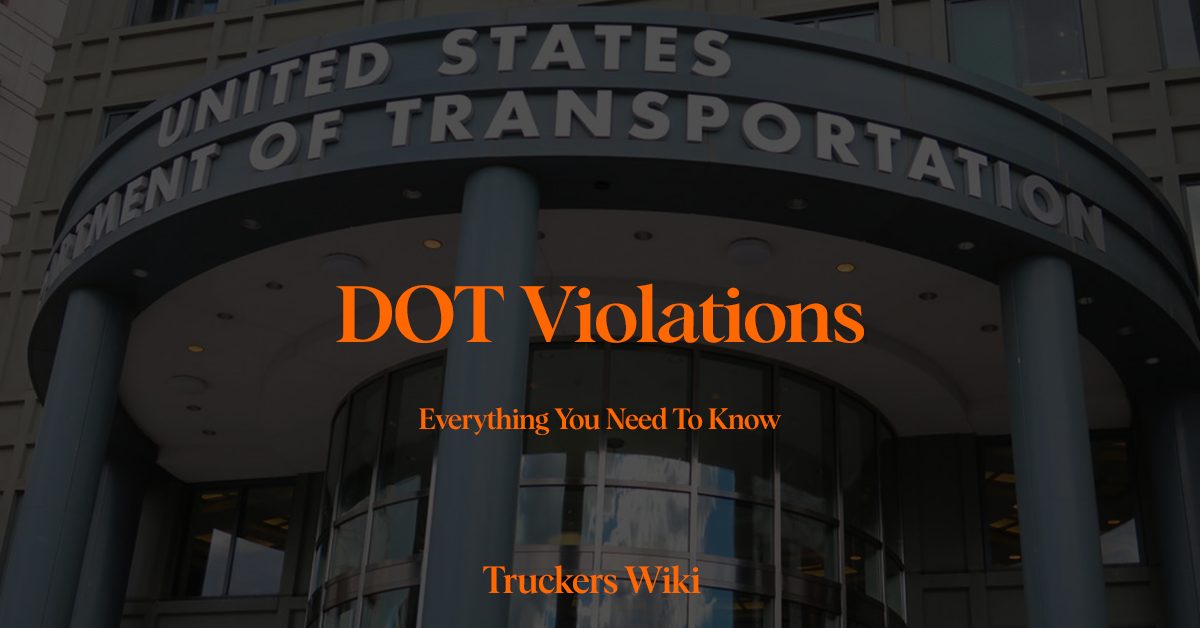 What are DOT Violations
DOT violations are situations where commercial vehicles or drivers fail to meet the regulations set by the Department of Transportation.
These regulations are designed to ensure road safety, driver well-being, and proper vehicle maintenance. Comprehending the spectrum of DOT violations is crucial for truckers and carriers to navigate the highways responsibly.
Impact of Violations
The aftermath of DOT violations extends beyond the immediate inconvenience. Fines, penalties, and increased insurance rates can strain financial resources. Moreover, violations can tarnish carrier safety ratings and driver records, affecting credibility in the industry. Recognizing the far-reaching implications underscores the significance of diligent adherence to DOT regulations.
Common Types of DOT Violations
Hours of Service (HOS) Violations
HOS violations occur when drivers exceed the allowable driving hours, skip mandatory rest breaks, or manipulate logbooks. These regulations exist to prevent driver fatigue, a leading factor in accidents. Staying within HOS limits not only ensures safety but also evades potential penalties.
Learn more about Hours Of Service here.
Vehicle Maintenance Violations
Vehicle maintenance violations arise from neglecting regular inspections or failing to address equipment defects promptly. These violations compromise roadworthiness and jeopardize safety. Rigorous maintenance routines mitigate the risk of these infractions, fostering a secure and reliable fleet.
Click to read eRoad USA CSA Improvement Series: Vehicle Maintenance BASIC full article here.
Weight and Load Violations
Excessive weight and improperly secured cargo can lead to violations. These violations strain vehicle components, increase fuel consumption, and endanger road users. Prioritizing proper load distribution, weight limits, and securement safeguards against these infractions.
Learn about Oversize/Overweight Permitting in this FMCSA official article.
Documentation and Recordkeeping Violations
Accurate and up-to-date documentation is vital for DOT compliance. Failing to maintain proper records can result in violations. Diligent recordkeeping, including driver logs and necessary permits, is instrumental in avoiding these pitfalls.
Consequences of DOT Violations
Monetary Penalties
DOT violations come with a monetary price tag that varies based on the violation's severity. These fines can accumulate quickly, impacting operational budgets. Financial prudence involves minimizing violations to ensure fiscal stability.
Impact on Carrier and Driver Records
DOT violations cast a shadow on carrier safety ratings and driver records. Repeated infractions erode trust and credibility. Maintaining clean records bolsters professional reputation and enhances business opportunities.
Increased Insurance Rates
DOT violations can lead to increased insurance premiums. Carriers and drivers with a history of violations are perceived as higher risks. Cultivating a track record of compliance can help keep insurance costs in check.
Learn more about Insurance here.
Preventing DOT Violations
Education and Training
Ongoing education and training programs empower drivers and carriers to stay updated on evolving regulations and industry best practices. Knowledgeable professionals are better equipped to navigate the intricacies of compliance.
Regular Vehicle Inspections
Thorough pre-trip and post-trip inspections unveil potential issues, allowing for timely rectification. This proactive approach ensures that vehicles remain roadworthy and compliant.
Compliance with Electronic Logging Devices (ELDs)
ELDs offer a technological ally in HOS compliance. These devices accurately track driving hours, reducing the likelihood of HOS violations and enhancing overall safety.
Learn more about ELD here.
FMCSA ELD Rule article.
Responding to DOT Violations
Addressing Violations Promptly
Swiftly addressing violations is paramount. Rectify the issue, document corrective actions, and maintain open lines of communication with relevant authorities. Prompt responses demonstrate a commitment to accountability.
Contesting Unjust Violations
In cases of unjust or incorrect violations, contesting through appropriate channels is essential. Accurate documentation and a clear presentation of facts are crucial when seeking rectification.
Listen to The Article Here
DOT Inspector explains what he looks for when checking semis video by Steven Welch
List of Most Common Unsafe Driving Violations
Violation Severeity Weight
Failure to obey traffic control device
Lane Restriction violation
State/Local Laws-Speeding 15 or more mph over the limit
Failing to use seat belt while operating a CMV
State/Local Laws-Speeding
6 to 10 mph over the limit
State/Local Laws-Speeding
11 to 14 mph over the limit
Failure to yield right of way
Using a hand-held mobile device while operating a CMV
List of Most Common Hours of Service Driver Violations
Violation Severeity Weight
Driver failing to maintain ELD user's manual
Driver failing to maintain ELD instruction sheet
Driver failed to maintain instruction sheet for ELD malfunction reporting requirements
Record of Duty Status violation (general/form and manner)
Portable ELD not mounted in a fixed position and visible to driver
Driver failed to maintain supply of blank driver's records of duty status graph-grids
List of Most Common Driver Fitness Violations
Violation Severeity Weight
Operating a property-carrying vehicle without possessing a valid medical certificate
Violating airbrake restriction
List of Most Common Controlled Substances Violations
Violation Severeity Weight
Driver on duty and in possession of a narcotic/amphetamine
Driver consuming an intoxicating beverage within 4 hours before operating a motor vehicle
List of Most Common Vehicle Maintenance Violations
Violation Severeity Weight
No or defective lighting devices or reflective material as required
No/discharged/unsecured fire extinguisher
Frame cracked/loose/sagging/broken
Bolts securing cab broken/loose/missing
Cab/body improperly secured to frame
Brake connections with leaks or constrictions
Brake hose or tubing chafing and/or kinking under vehicle
Brake connections with leaks under vehicle
Windshield wipers inoperative/defective
Inspection, repair and maintenance of parts & acessories
Was this article helpful?