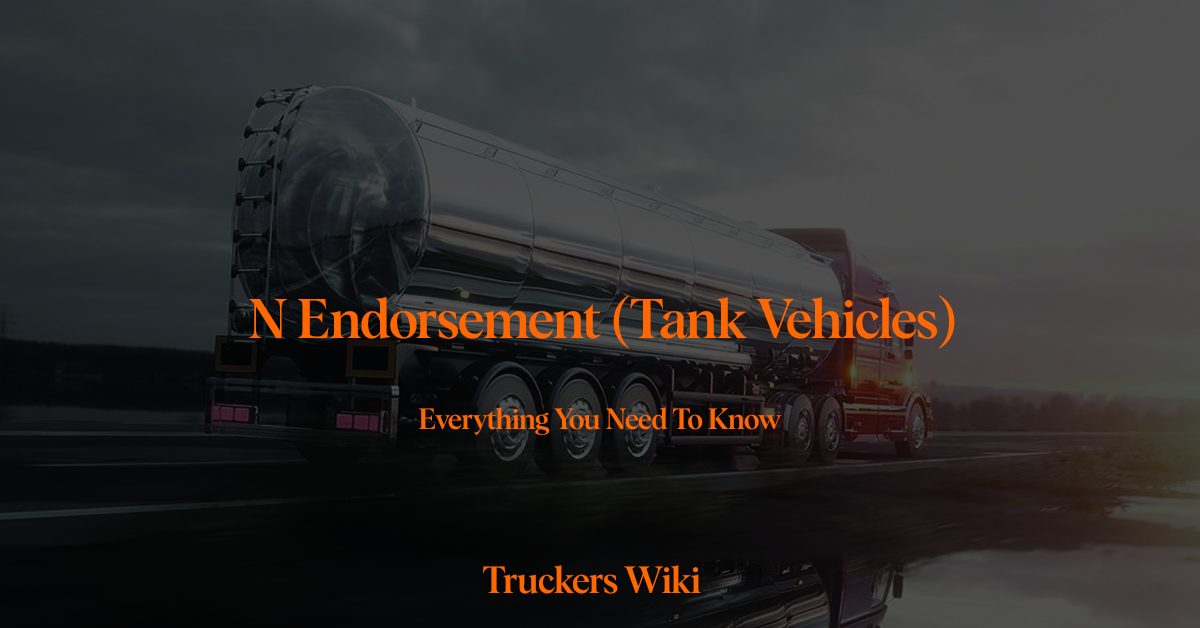 What is Tanker Endorsement – N Endorsement
N Endorsement or tanker endorsement (Tank Vehicle) is an additional certification that allows CDL holders to operate tank vehicles. These vehicles are designed to transport liquid or gaseous materials in bulk, and typically have a permanently attached tank with a capacity of 1,000 gallons or more.
CDL Classes that can obtain N endorsement: A, B.
How to obtain the Tanker Endorsement (N Endorsement)

Tanker Endorsement Requirements
To be eligible for an N Endorsement, you must already possess a valid CDL Class A or Class B. Each state may have additional requirements, so it's essential to check with your local Department of Motor Vehicles (DMV) or equivalent agency for the specific criteria.
Study Materials
Familiarize yourself with the required knowledge to pass the written test by studying your state's CDL manual, focusing on the tank vehicle section. The manual will cover topics such as inspecting tank vehicles, safe driving practices, managing the vehicle's center of gravity, and handling emergencies.
Written Test
Schedule an appointment with your local DMV or an authorized third-party testing center to take the written test for the N Endorsement. The test will typically consist of multiple-choice questions based on the information in the CDL manual's tank vehicle section. You must achieve a passing score, usually around 80%, to obtain the endorsement.
Skills Test
Depending on your state's regulations, you will be required to take a skills test in a tank vehicle. This test evaluates your ability to safely operate the vehicle, perform pre-trip inspections, and manage different driving situations. Make sure you have access to a tank vehicle for the test and are comfortable driving it.
Application and Fees
Once you've passed the written test (and the skills test, if required), you'll need to complete an application and pay any associated fees to have the N Endorsement added to your CDL. These fees vary by state, so check with your local DMV for the exact amount.
Potential Other Requirements 
Depending on your state and the materials you intend to transport, you may also need to undergo a background check, complete a hazardous materials (Hazmat) endorsement process, or meet other additional requirements.
Maintain Your Endorsement
To keep your N Endorsement valid, you'll need to renew your CDL before its expiration date and maintain a clean driving record. Be aware of any additional training or certification requirements in your state to avoid losing your endorsement.
Remember that the process and requirements for obtaining an N Endorsement may vary by state, so always consult your local DMV or equivalent agency for the most up-to-date information.
Video from The Trucking Industry channel talking about Tanker Endorsement.
Listen to The Article Here
Was this article helpful?