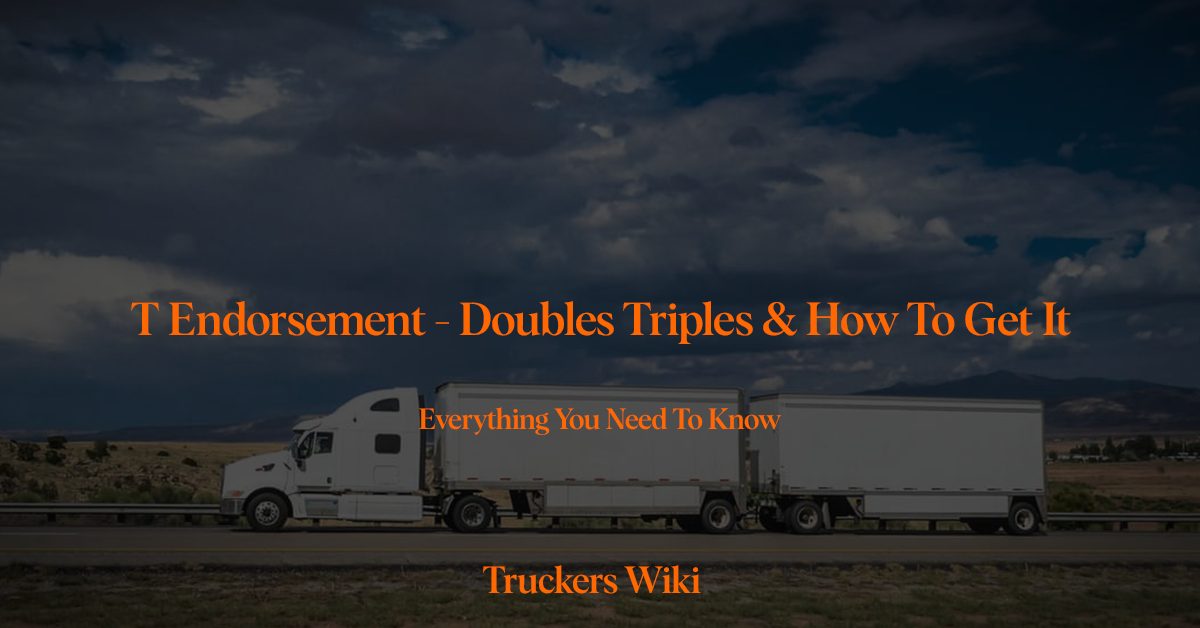 What is Doubles Triples Endorsement – T Endorsement on CDL
T Endorsement or Doubles Triples is an endorsement that allows the driver to operate vehicles with double or triple trailers. It can be added to a commercial driver's license (CDL).
To obtain T Endorsement you only need to pass a written exam, no road test is required.
This endorsement is especially useful for drivers working in the trucking industry, as it enables them to haul more cargo and increase their earning potential.
Classes that can obtain Doubles Triples endorsement: A. 
How to Get Doubles Triples Endorsement on your CDL
Here's everything you need to know to obtain a T Endorsement on your Class A CDL
Requirements for CDL Doubles Triples Endorsement
You must already possess a valid CDL Class A.
You must be at least 18 years old for intrastate (within the same state) driving, or 21 years old for interstate (across state lines) driving.


Knowledge Test for Doubles Triples Endorsement

You must pass a knowledge test that covers the following topics:
Coupling and uncoupling procedures for double and triple trailers.
Inspecting double and triple trailers.
Anticipating and managing the different handling characteristics of these combinations, such as off-tracking, rollover risk, and stopping distance.
Understanding relevant laws, regulations, and safety practices.
You can prepare for the knowledge test by studying your state's CDL manual, which should have a section dedicated to double and triple trailers.
Learn more about CDL manual and where to download them ehre.
Additionally, you can find practice tests and other resources online to help you get ready for the test.
You can find practice Doubles Triples test on DriverTests.org or by clicking here.
Skills Test
There is no skill or road test required to obtain a doubles triples endorsement. However, all employers are required to administer the road test with the driver in a representative vehicle before allowing the driver to operate a company truck.
FMCSA §391.31 Road test.
Fees for Doubles Triples Endorsement
Fees for getting your double triple endorsement varies from state to state, but in general can cost anywhere from $1 to $50.
Applying for the T Endorsement
Once you pass the required tests, you can apply at your local Department of Motor Vehicles (DMV) or other licensing agency. The process usually involves submitting an application form, providing proof of identity and residency, and paying a fee. Your CDL will be updated to reflect the new CDL double triple endorsement.
Remember, CDL requirements and processes may vary slightly from state to state, so it's important to check with your local DMV or licensing agency for the most accurate and up-to-date information on obtaining a T Endorsement. That's it now you got your CDL doubles endorsement.
Listen to The Article Here
Was this article helpful?