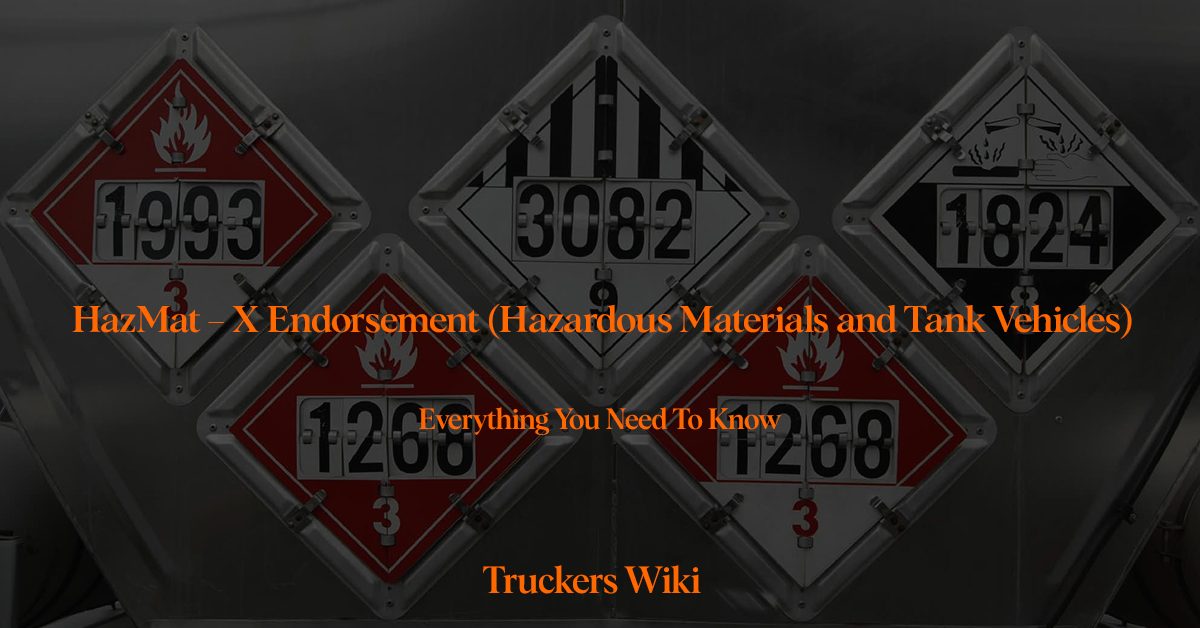 What is X Endorsement
X Endorsement on a CDL allows the driver to operate vehicles that transport hazardous materials in tank vehicles.
The X Endorsement combines the H Endorsement (hazardous materials) and the N Endorsement (tank vehicles), enabling drivers to transport hazardous materials in a tank. Here's a brief overview of the endorsements and the process of obtaining an X Endorsement.
Classes that can obtain X endorsement: A, B.
Obtaining the HazMat – X Endorsement

There are a couple of steps to obtaining your HazMat endorsement. First, check if you are eligible, obtain the study materials, pass the written test, and get through the HME application process.
Here is everything you need to know.
Determine your eligibility
You must be at least 21 years old to transport hazardous materials.
You must hold a valid CDL or be in the process of obtaining one.
You must be a U.S. citizen or have permanent legal residency.
You must have a clean driving record and pass a background check.
Obtain and study the relevant materials
Get your state's Commercial Driver's License Manual, which includes information on hazardous materials and tank vehicles.
Study the sections on hazardous materials and tank vehicles, as well as any other relevant sections.
Pass the written tests
To obtain the X Endorsement, you need to pass both the Hazardous Materials Endorsement (H) and the Tank Vehicle Endorsement (N) written tests.
The tests typically consist of multiple-choice questions covering topics such as hazardous materials regulations, safety precautions, handling, and emergency procedures.
Some states may require a separate test for each endorsement, while others may combine the tests.
Complete the Hazardous Materials Endorsement (HME) application process
Complete a Transportation Security Administration (TSA) Security Threat Assessment (STA) application online or at a TSA-approved enrollment center.
Provide fingerprints for a criminal background check.
Pay the required fees which will cost you roughly $100.
Pass the HazMat Background Check by TSA
After submitting your HME application and fingerprints, the TSA will conduct a background check, which may take several weeks to complete.
If you pass the background check, you will receive a notification from the TSA, and your state's licensing agency will be informed.
Learn more about Transportation Security Administration – TSA here.
Visit your local Department of Motor Vehicles (DMV)
Bring your CDL, proof of citizenship or legal residency, and any additional required documents.
Pay the necessary fees for the X Endorsement.
Receive your updated CDL with the X Endorsement
After you have successfully completed all the requirements, your state licensing agency will issue you an updated CDL with the HazMat X Endorsement.
Please note that the exact requirements and processes may vary slightly depending on the state. It's essential to consult with your state's licensing agency or DMV for the most accurate information.
If you need information on how to obtain N Endorsement (Tank Vehicles) or H Endorsement (Hazardous Materials) click the links.
Learn more about TWIC card here.
Listen to The Article Here
Was this article helpful?