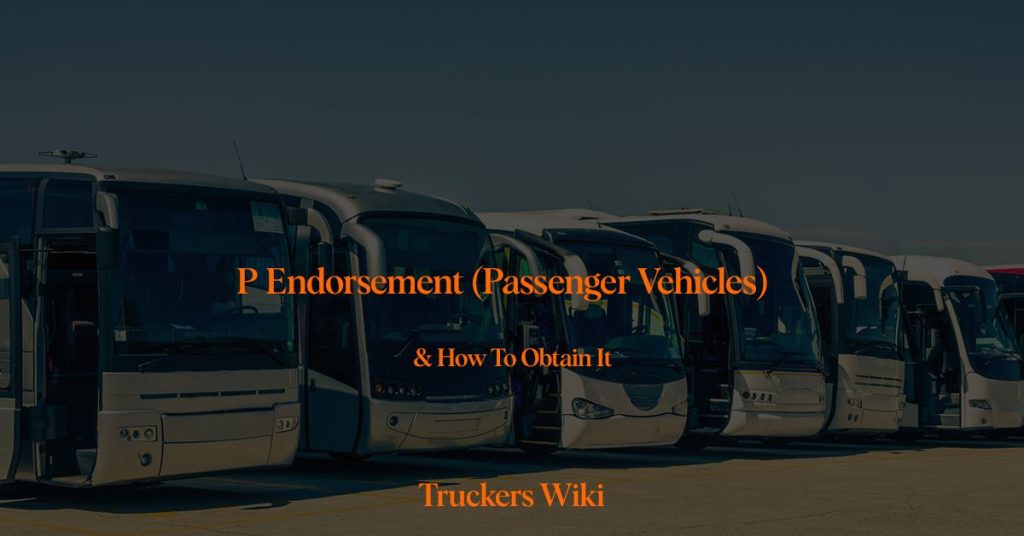 What is Passenger Endorsement – P
P Endorsement, or Passenger Endorsement, allows a commercial driver to operate passenger vehicles such as buses, shuttles, or vans that carry a certain number of passengers. This does not allow you to drive a school bus, you will need S endorsement to do so. The specific requirements for obtaining a P Endorsement vary from state to state. We will provide a general overview of the process and requirements for obtaining a P Endorsement in the United States.
Classes that can obtain P endorsement: A, B, C.
How to get Passenger Endorsement (Passenger Vehicles Endorsement)?
The process for obtaining a P Endorsement with a CDL is:
Prepare for the P Endorsement Test 
Study the passenger vehicle section of your state's commercial driver's manual to prepare for the written knowledge test.
Schedule and Take the P Endorsement Test
Schedule your P Endorsement test at your local Department of Motor Vehicles (DMV) or a designated testing center. Pass the written knowledge test, which typically consists of multiple-choice questions.
Complete a Skills Test
You will be required to pass a skills test, which assesses your ability to safely operate a passenger vehicle. This test includes pre-trip inspections, basic vehicle control, and on-road driving. You'll need access to an appropriate passenger vehicle for the test.
Background Check and Additional Requirements 
Depending on your state and the type of passenger vehicle you'll be operating, you may be subject to additional requirements, such as fingerprinting, criminal background checks, child abuse history clearance, drug and alcohol tests, or completion of a passenger vehicle safety training program.
Obtain Your Passenger Endorsement 
Once you have successfully completed all the required tests and met any additional requirements, your P Passenger Endorsement will be added to your existing Class A CDL. You can now legally operate passenger vehicles within the scope of your license and endorsement.
As requirements can vary by state, it's important to consult your state's specific guidelines to ensure you follow the correct procedures and meet all necessary requirements.
6Star Driver Sample Test video
Link to Free DMV Practice test
Listen to The Article Here
Was this article helpful?