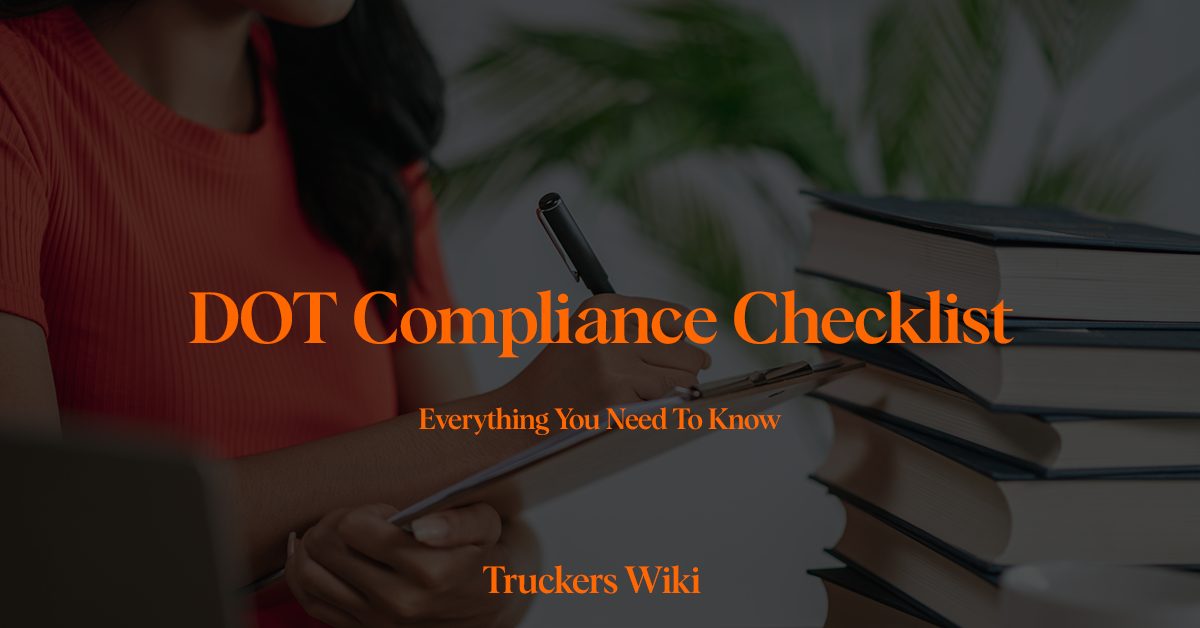 What is the DOT Compliance Checklist
The Department of Transportation (DOT) sets forth a multitude of regulations that must be followed to ensure the safety and legality of all trucking operations. Staying DOT-compliant is crucial for every trucking company, big or small. This article provides a comprehensive DOT compliance checklist, helping to ensure that your trucking operations meet all necessary requirements.
DOT Compliance Checklist
1. Obtain USDOT Number and MC Number
If you already own USDOT and MC Number just skip to the next step.
The first step toward DOT compliance is obtaining a unique USDOT number, which serves as an identifier when collecting and monitoring a company's safety information. Also, if your operations involve interstate trade, transport, or traffic, you must secure an MC number (Motor Carrier Operating Authority).
2. Maintain Driver Qualification Files
Each driver employed must have a Driver Qualification File. These files should contain:
Employment application
A copy of the driver's CDL (Commercial Driver's License)
Verification of past employment
Annual reviews of driving record
Annual certifications of violations
Road test certificate or equivalent
3. Implement Drug and Alcohol Testing Program
All CDL drivers must be a part of a DOT-approved drug and alcohol testing program, which includes:
Random testing
Post-accident testing
Reasonable suspicion testing
Return-to-duty testing
Follow-up testing
4. Comply with Hours of Service Regulations
Drivers must adhere to the Hours of Service regulations, which outline how many hours a driver can be on duty and drive. These rules are enforced to prevent accidents caused by driver fatigue.
5. Use DOT-Approved Electronic Logging Devices (ELD)
The ELD rule mandates the use of electronic logging devices for recording a driver's Record of Duty Status (RODS). This device replaces the traditional paper logbook and provides a more accurate and easier tracking method.
Learn more about Logbook here.
6. Regular Vehicle Inspections and Maintenance
Ensure all commercial vehicles undergo regular inspections and maintenance. Maintain a systematic inspection, repair, and maintenance program and keep documentation for each vehicle.
7. Comply with Hazardous Materials Regulations
If your company transports hazardous materials, it is crucial to comply with DOT's Hazardous Materials Regulations. This includes proper packaging, marking, labeling, and documenting such shipments.
8. Driver Training and Safety Awareness
Ensure all drivers are trained adequately for the vehicles they are driving and are aware of all safety protocols.
9. Accident Register
Maintain a record of all accidents involving your commercial vehicles, including date, driver, copies of accident reports, and any witness statements.
Click here for the FMCSA accident registrar.
10. Display USDOT Number
Display your USDOT number on both sides of every commercial vehicle you operate.
11. International Fuel Tax Agreement (IFTA)
Under IFTA, trucking companies need to file quarterly fuel tax reports which determine the net tax or refund due and redistribute taxes from collecting states to states that it is due. This makes it easier for companies to report their fuel usage and only pay a net fuel tax to their base jurisdiction, while it takes the responsibility of distributing the taxes to the appropriate jurisdictions.
Learn more about IFTA here.
Some additional considerations might include:
Specialized training: Depending on the type of cargo your company transports, drivers may need specialized training. For example, if you transport hazardous materials, drivers may need specific training and a Hazmat endorsement on their CDL.

Insurance: DOT regulations require specific minimum levels of insurance for different types of operations.

Operational requirements: There are various regulations regarding how trucks must be operated, including speed limits, use of seat belts, prohibition of texting while driving, and more.

Registration for Unified Carrier Registration (UCR) Program: If your business involves interstate travel, you are required to register and pay a fee based on the size of your fleet.

Biennial Update or MCS-150: The FMCSA requires all carriers to update their information every two years.

Cargo securement: DOT regulations include requirements for how cargo must be secured to prevent shifting or falling.
Conclusion
This is not an exhaustive list. Compliance with DOT regulations requires understanding and following a wide array of regulations, and it's a good idea to consult with a transportation law professional or expert to ensure complete compliance.
Additionally, regulations can and do change over time, so it's important to stay informed about any updates or changes to DOT regulations. The FMCSA website is a reliable source for up-to-date information.
Listen to The Article Here
Was this article helpful?