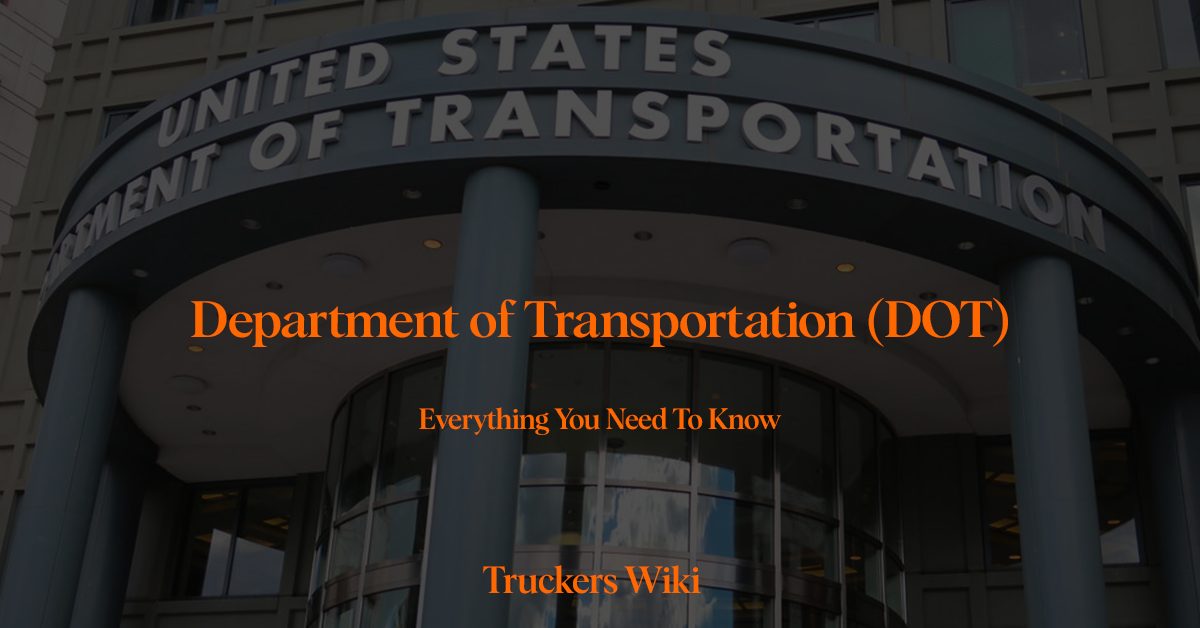 What is Department of Transportation DOT
The United States Department of Transportation (DOT) is a federal Cabinet department of the U.S. government concerned with transportation. Established by an act of Congress on October 15, 1966, its mission is to ensure a fast, safe, efficient, accessible, and convenient transportation system that meets our vital national interests and enhances the quality of life for the American people.
This article covers both a general overview of DOT and it's role in trucking.
You can listen to this article at the end of the page.
Organization and Administration
The DOT is administered by the United States Secretary of Transportation. Under the DOT, there are several administrations each responsible for different modes of transportation.
These include:
Roles and Responsibilities
The primary role of the DOT is to formulate and oversee transportation regulations and policies for the country. These responsibilities include:
Safety Regulations: The DOT sets safety standards for all major modes of transportation. This includes setting standards for vehicle safety, pilot training, and road maintenance.

Infrastructure Development: The DOT provides funding for the construction and maintenance of highways, railroads, and airports.

Regulation Enforcement: Through its administrations, the DOT enforces regulations related to trucking, aviation, rail, maritime, and other transportation modes.

Research and Innovation: The DOT conducts and sponsors research to improve the country's transportation system. This can include studies on traffic patterns, safety measures, and transportation technologies.

Disaster Response: The DOT coordinates transportation services during times of disaster to assist in emergency response and recovery efforts.
DOT Role in Trucking
The U.S. Department of Transportation (DOT) has a significant role in regulating the trucking industry, primarily through its Federal Motor Carrier Safety Administration (FMCSA). The FMCSA is tasked with preventing commercial motor vehicle-related fatalities and injuries by enforcing safety regulations and improving the safety of commercial motor vehicles.
Here are several ways the DOT impacts truck drivers:
Licensing: The DOT, through the FMCSA, establishes standards for the testing and licensing of commercial motor vehicle drivers, including truck drivers. This includes the Commercial Driver's License (CDL) program, which sets forth minimum qualifications for those who wish to operate commercial trucks on public roadways.
Hours of Service Regulations: The DOT has rules about how many hours a truck driver can drive without taking a break, known as Hours of Service (HOS) regulations. These rules are intended to ensure that drivers are well-rested and alert on the road. The regulations specify daily and weekly driving and on-duty limits, as well as required rest periods.
Vehicle Safety Standards: The DOT sets safety standards for commercial vehicles. These include regulations related to vehicle maintenance, cargo securement, hazardous materials transport, and more.
Carrier Registration: Trucking companies are required to register with the FMCSA and receive a USDOT Number, which is used for identification during inspections, compliance reviews, and crash investigations.
Safety Inspections and Compliance Reviews: The DOT, via the FMCSA, conducts routine safety inspections and audits to ensure that drivers and trucking companies are following all relevant regulations. This includes roadside inspections, which can occur randomly or at permanent inspection sites.
Learn more about Roadside Inspections here.
Learn about the Most Common DOT driver Violations here.
Data Collection and Reporting: The DOT collects and analyzes data related to trucking accidents and violations, which helps them identify trends and areas for improved safety measures. This data is also used in the FMCSA's Safety Measurement System (SMS), which evaluates the safety of individual trucking companies.
Learn about DOT Hazmat Training here. [required for all employees working with hazardous materials in any capacity]
The Bottom Line
In summary, the DOT has significant influence over trucking operations in the United States, aiming to ensure safety and compliance with relevant regulations. If you're a truck driver or involved in the trucking industry, it's important to understand and follow the rules and guidelines set forth by the DOT.
Learn about DOT Compliance here.
Here is a full DOT Compliance Check List.
Was this article helpful?