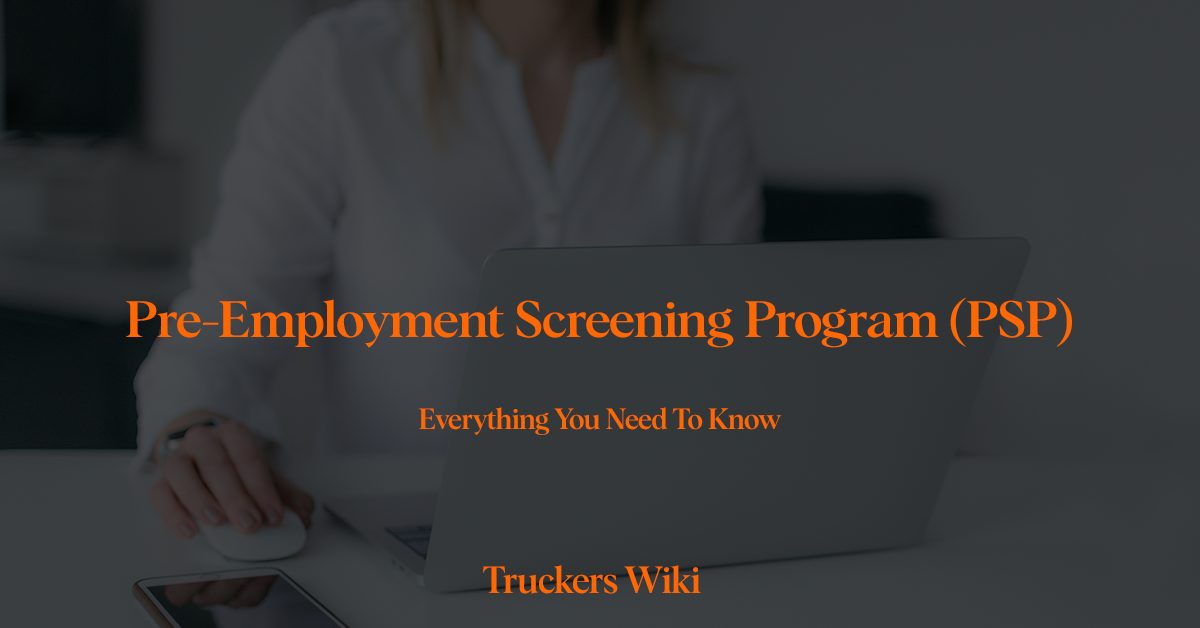 What is the Pre-Employment Screening Program PSP for Truck Drivers
The Pre-Employment Screening Program is a federally managed system that provides motor carriers with electronic access to a potential driver's crash and inspection history.
The PSP report pulls your 5-year crash and 3-year roadside inspection history.
It is managed by the FMCSA in partnership with the National Highway Traffic Safety Administration (NHTSA) and the Department of Transportation (DOT).
Purpose of the Pre-Employment Screening Program
The primary goal of the PSP is to enhance safety on the roadways by ensuring that motor carriers have access to relevant information on a driver's safety performance history before hiring. This enables carriers to select drivers who have a demonstrated commitment to safety, reducing the likelihood of crashes and improving overall transportation safety.
Data sources
The PSP retrieves driver data from two main sources:
Motor Carrier Management Information System (MCMIS) – A database that contains crash and inspection data for commercial motor vehicle (CMV) drivers.
Safety and Fitness Electronic Records (SAFER) System – A database that includes carrier safety data, such as safety ratings and out-of-service (OOS) orders.
Information Provided
Through the PSP, motor carriers can access a driver's:
Five-year crash history and three-year roadside inspection history, including safety violations and OOS orders.
Driver consent
Motor carriers can only access a driver's PSP report if the driver provides written consent. Drivers have the right to review their PSP records and correct any inaccuracies. Additionally, they can authorize multiple carriers to access their records, making the job search process more efficient.
Fees – Price of PSP Record
There is a fee for motor carriers to access the PSP records, which helps fund the program. The usual fee is $10 per PSP record.
Compliance
Participation in the PSP is voluntary for motor carriers. However, carriers that choose to use the PSP must adhere to the Fair Credit Reporting Act (FCRA) and other applicable regulations, such as providing pre-adverse action notices and adverse action notices to drivers if a hiring decision is made based on the PSP report.
Benefits 
The PSP offers several benefits to both motor carriers and drivers, such as:
Improved safety
Access to a driver's safety history helps carriers identify and hire safer drivers.
Informed decision-making
Carriers can make better hiring decisions by having a comprehensive view of a driver's safety record.
Transparency
The PSP promotes transparency between drivers and carriers, fostering a safety-oriented culture in the industry.
Job search efficiency 
Drivers can provide consent to multiple carriers, simplifying the job search and application process.
External Links
For more information about the PSP or to access the program, visit the official PSP website (https://www.psp.fmcsa.dot.gov/psp/).
Pre-Employment Screening Program (PSP) Mobile Application [FMCSA]
Listen to The Article Here
Was this article helpful?