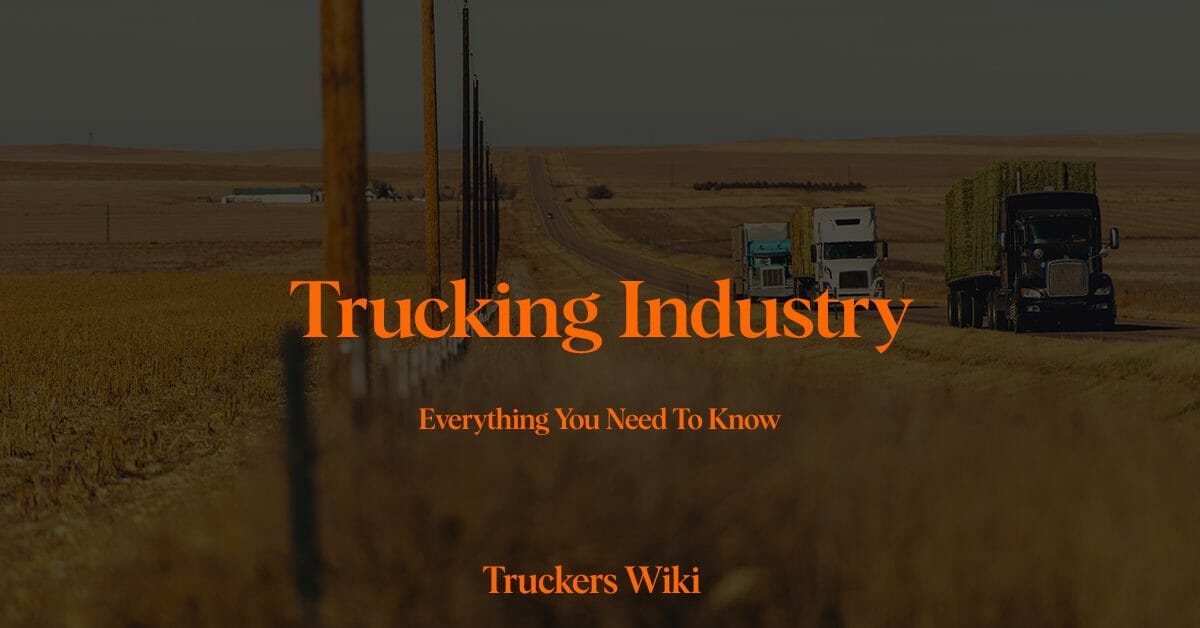 What is the Trucking Industry
The trucking industry is a key component of the American economy. Playing an essential role in the transportation and logistics sector, it ensures the movement of goods across the country. This article aims to provide a comprehensive overview of the trucking industry, highlighting its role and structure.
Role of the Trucking Industry
The trucking industry's primary role is the transportation of goods. With over 70% of all freight tonnage in the U.S. moved by trucks, it's safe to say that this industry is the backbone of domestic trade and a significant contributor to the country's economic activity. From raw materials to finished products, the trucking industry helps ensure a steady supply of goods to businesses and consumers alike.
Players In the Trucking Industry
Truck Drivers
Truck drivers are the heart of the industry. Whether employed by a trucking company or working as owner-operators, they're responsible for the actual transportation of goods, driving the trucks, maintaining logs, ensuring cargo safety, and complying with regulations.
Learn more about Company Drivers here.
Trucking Companies
Trucking companies are the back bone of the industry, providing freight transportation services. These can be large nationwide companies or smaller regional carriers. They manage fleets of trucks and employ drivers to transport goods across various distances. Prominent examples include UPS, FedEx, J.B. Hunt, and Schneider National.
Independent Owner-Operators
Independent owner-operators are self-employed individuals who own and operate their trucks. They might work under contract with larger trucking companies or directly with shippers. They play a crucial role in the industry, providing flexibility and additional capacity when needed.
Learn more about Owner Ops here.
Shippers (Consignors)
Shippers, also known as consignors, are individuals or businesses that need to send goods from one location to another. They engage trucking companies or independent owner-operators to transport their cargo. Shippers can range from small businesses to large multinational corporations.
Learn more about Shippers here.
Receivers (Consignees)
Receivers, or consignees, are the intended recipients of the shipped goods. They can also be individuals or businesses of any size, depending on the nature of the goods being transported.
Learn more about Receivers here.
Freight Brokers
Freight brokers act as intermediaries between shippers and carriers. They help to match available freight with available trucks, negotiating rates and arranging for the transportation of goods.
Learn more about Brokers here.
Regulatory Bodies
Regulatory bodies such as the Federal Motor Carrier Safety Administration (FMCSA) and the Department of Transportation (DOT) play an important role in the trucking industry by enforcing safety and business regulations.
Truck Manufacturers
Truck manufacturers design and produce the vehicles used in the industry. Major truck manufacturers in the U.S. include Freightliner, Peterbilt, Kenworth, and Volvo.
Third-Party Logistics Providers (3PLs)
3PLs provide outsourced logistics services to shippers, which may include transportation management, warehousing, distribution, and freight consolidation.
Freight Forwarders
Freight forwarders arrange the transportation of goods on behalf of shippers, typically for international shipping. They handle logistics and documentation related to customs, insurance, and import/export regulations.
Aspects of the Trucking Industry
The U.S. trucking industry is highly diverse, comprising many different types of businesses, from small, independent owner-operators to large freight companies.
Long-haul vs. Short-haul: Long-haul trucking, often referred to as Over-the-Road (OTR), involves transporting goods over long distances, often across multiple states. Short-haul trucking typically involves deliveries within a specific region or state.

Freight Type: The industry is further divided based on the type of freight transported. There are dry vans (for non-perishable goods), flatbed trucks (for large or irregularly shaped goods), refrigerated trucks or "reefers" (for perishable goods), tankers (for liquids or gases), hazardous materials, and more.
Regulation
The trucking industry is heavily regulated to ensure safety and fair business practices. In the U.S., the Federal Motor Carrier Safety Administration (FMCSA) sets rules regarding driver hours of service, vehicle maintenance, driver health, and other safety aspects. Compliance with these regulations is crucial for the smooth operation of businesses in the industry.
Visit FMCSA website about CDL.
Challenges
The trucking industry faces several challenges, including fluctuating fuel costs, a chronic shortage of drivers, regulatory pressures, and the need for technological advancement. The industry also experiences a high turnover rate, as the demanding nature of the job often leads to driver burnout.
Technological Advancements
The trucking industry has been adopting various technological advancements to improve efficiency and safety. This includes telematics for tracking and route optimization, advanced safety features in trucks, and even the potential future use of autonomous vehicles although probably still decades away.
External Articles
Learn about Spot Market here.
Learn about Dedicated Contract Carriage here.
Listen to The Article Here
Was this article helpful?