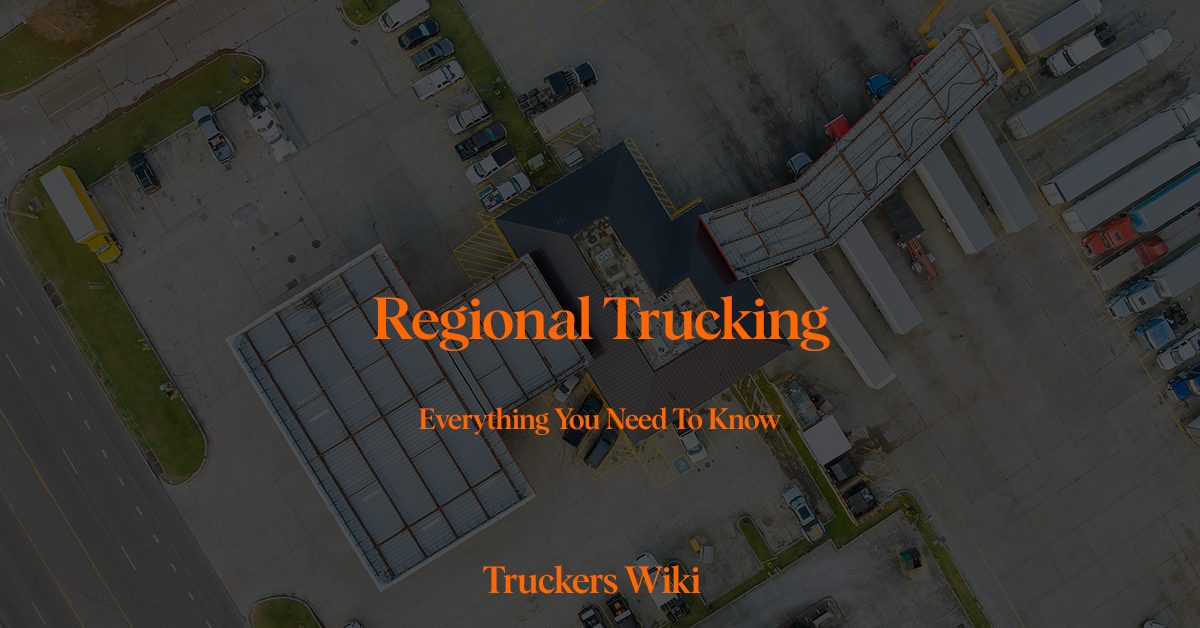 What is Regional Trucking?
Regional trucking involves transporting goods within a specific region of the country, such as the Northeast, the Midwest, or the Pacific Northwest. Regional truck drivers will usually cover radius varies by company but generally spans several hundred miles. Unlike local runs that usually stick to a local area or long-haul truckers, who can traverse the entire country, regional drivers stay within their designated regions. However, compared to local drivers, regional drivers cover more substantial distances and may spend several days away from home at a time.
The length of time on the road and the frequency of home time in regional trucking jobs depend on several factors, including the specific company, the region, and the type of freight. Typically, regional drivers can expect to be home weekly, unlike long-haul drivers who may only be home every few weeks or even monthly.
The Role of Regional Trucking in the Supply Chain
Regional trucking plays a pivotal role in the supply chain, bridging the gap between local and long-haul freight transportation. Regional drivers often carry freight from distribution centers to local hubs or retailers within a specific geographic area. They may also transport goods between different cities or states within their region.
As e-commerce continues to grow, the role of regional trucking is becoming even more critical. Consumers expect fast, reliable delivery of goods, and regional trucking allows logistics providers to meet these expectations efficiently.
Benefits of Regional Trucking Jobs
Balance of Home Time and Earnings: Regional trucking often offers a balance between earnings and home time that suits many drivers. While they may not earn as much as long-haul drivers due to fewer miles driven, they often enjoy more home time than long-haul drivers but more earning potential than local drivers.

Familiar Routes: Similar to local trucking, regional drivers often become familiar with their routes, which can make the job less stressful.

Variety of Loads: Regional truck drivers often have the opportunity to transport a wide range of goods, providing variety in their work.
Common Requirements for Regional Trucking Jobs
Commercial Driver's License (CDL): A CDL is typically required for regional truck driving jobs, with the class of license (A, B, or C) depending on the type and size of the vehicle being driven.

Endorsements: Depending on the specific type of vehicle and cargo, drivers may need certain endorsements on their CDL. For example, if they're driving a tanker truck or transporting hazardous materials.

Experience or Training: Some employers may require a certain amount of driving experience or completion of professional truck driving training. However, some companies are willing to hire new drivers and provide on-the-job training.

Physical Health: All commercial drivers, including regional truck drivers, must pass a Department of Transportation (DOT) physical exam to ensure they're physically fit to drive.

Clean Driving Record: Employers generally prefer candidates with a clean driving record, with no serious traffic violations or accidents.

Age Requirement: Federal regulations require drivers to be at least 21 years old to drive a commercial vehicle across state lines, which is typically a part of regional truck driving.
Challenges of Regional Trucking
While regional trucking comes with many benefits, it also has its challenges:
Irregular Home Time: Although regional drivers typically have more home time than long-haul drivers, their schedules can still be unpredictable. Home time often depends on the load, the route, and the company's needs.

Long Hours: Regional trucking can involve long hours on the road, often including early morning or late-night driving.
Conclusion
Regional trucking offers a middle ground for those seeking a balance between earning potential and home life.
Married to Freight has a great video covering the topic of regional driving.
Listen to The Article Here
Was this article helpful?