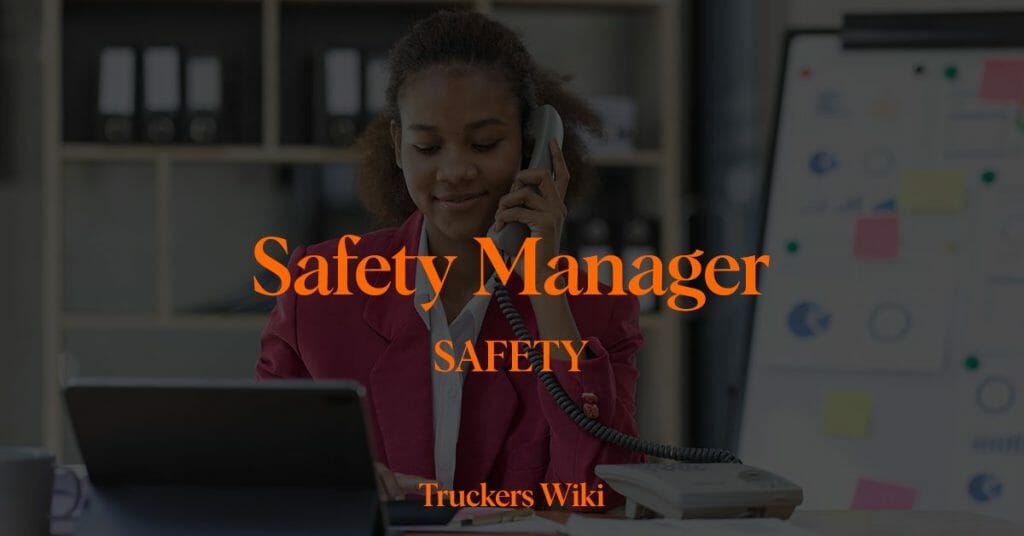 Who is the Safety Manager in Trucking
The safety Manager plays the key role in ensuring that a trucking company maintains the highest safety standards of drivers, passengers and cargo and complies with federal and state regulations. Handling all the necessary paperwork in regard to drivers, trucks and cargo. Insurance, making sure that trucks and equipment are properly registered, checking drivers MVR, clearinghouse, and more.
To better understand what a safety manager does we wrote this article to explore the responsibilities, qualifications, and average salary of a Safety Manager in the trucking industry.
Responsibilities
A Safety Manager in the trucking industry has several key responsibilities, including but not limited to.
Developing and Implementing Safety Policies and Procedures

Developing safety policies, procedures, and guidelines that cover all aspects of trucking operations, from driver behavior to vehicle maintenance and cargo handling.
Ensuring that safety protocols are clear, well-documented, and easily accessible to all employees.
Driver Qualification
Ensuring that all drivers meet regulatory requirements for commercial driving, including valid commercial driver's licenses (CDLs) and medical certifications.
Overseeing driver background checks such as MVR, clearinghouse, drug testing, and driving record reviews.
Conducting Safety Audits and Inspections
Safety Managers regularly inspect vehicles, equipment, and facilities to identify potential safety hazards and ensure compliance with safety standards.
They may also perform safety audits to assess the overall safety performance of the company and identify areas for improvement. 
Overseeing Accident Investigation and Reporting 
In the event of an accident, the Safety Manager leads the investigation to determine its cause, assess damages, and implement corrective actions.
They are also responsible for reporting accidents to the appropriate authorities and collaborating with insurance companies, legal teams, and law enforcement to ensure accurate documentation and analysis of incidents.
Providing Safety Training and Education
Safety Managers organize and conduct safety training sessions for drivers and other employees, ensuring they are knowledgeable about safety regulations, company policies, and best practices.
Managing Drug and Alcohol Testing Programs
They oversee the implementation of drug and alcohol testing programs to ensure compliance with federal and state regulations and maintain a drug-free fleet workplace.
Monitoring Safety Performance
The Safety Manager continually assesses the company's safety performance by tracking key safety metrics and analyzing data to identify trends and areas for improvement.
Ensuring Compliance with Regulations
Keeping track of changes in federal, state, and local regulations related to transportation safety.
Collaborating with legal and compliance teams to ensure the company's adherence to all safety-related laws.
Qualifications
Most companies will hire candidates without prior education or experience and provide them with full education and training.
Perfect candidate for a Safety Manager in the trucking industry typically has the following qualifications:

Knowledge of federal and state safety regulations, such as those enforced by the Federal Motor Carrier Safety Administration (FMCSA) and the Department of Transportation (DOT).

A bachelor's degree in safety transportation or a related field.

Experience in the trucking industry, preferably in a safety-related role.

Strong communication and leadership skills, as they must effectively communicate safety policies and procedures to employees and lead safety initiatives.

Certifications, such as the North American Transportation Management Institute (NATMI) Certified Director of Safety (CDS) or Certified Safety Supervisor (CSS), can be beneficial in demonstrating expertise in the field.
Average Salary
The average salary for a Safety Manager in the trucking industry varies depending on factors such as experience, location, and the size of the company. According to Payscale.com, as of May 2023, the average salary for a Safety Manager in the United States is around $74,000 per year. However, this figure can be higher for those with more experience or working for larger trucking companies.
The role of a Safety Manager in the trucking industry is critical in ensuring the safety and well-being of drivers, maintaining compliance with regulations, and protecting the company's reputation. 
Listen to The Article Here
Was this article helpful?