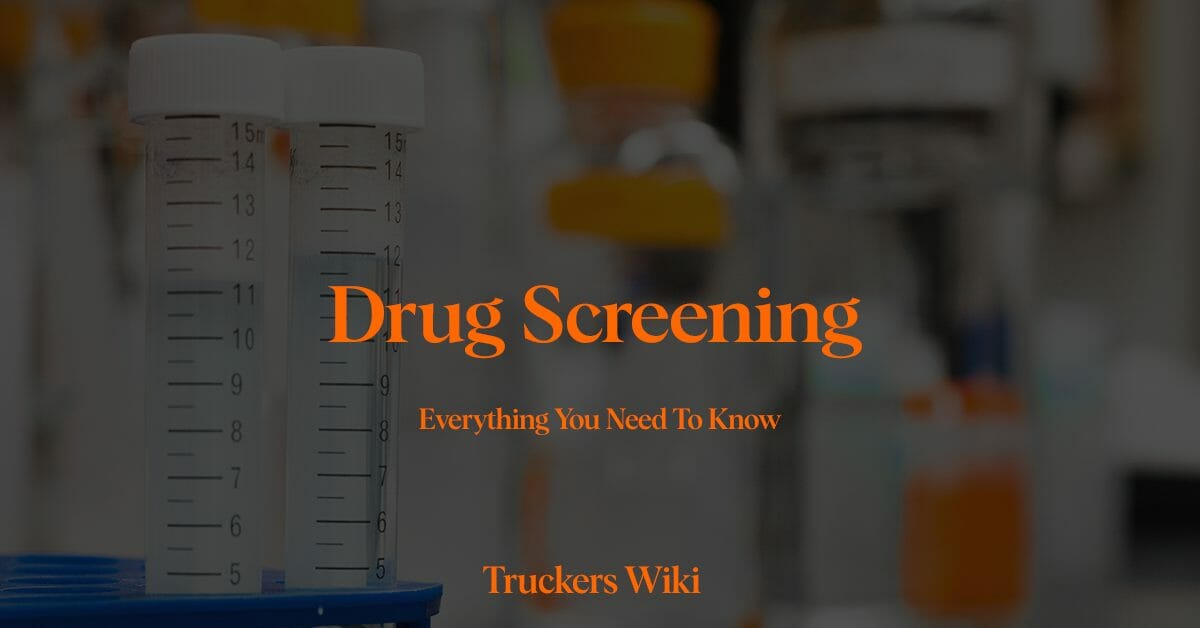 What is Drug Screening – Drug Test for Truck Drivers
Drug screening has become an integral part of the trucking industry, helping to ensure the safety and well-being of both drivers and the general public. The Federal Motor Carrier Safety Administration (FMCSA) requires mandatory drug and alcohol testing for safety-sensitive employees, including truck drivers. This article provides a comprehensive overview of drug screening in the trucking industry, why it's important, how it works, and what drivers can expect.
Importance of Drug Screening in the Trucking Industry
Operating a commercial vehicle requires high levels of concentration, quick reflexes, and sound judgement. Substance abuse can significantly impair these abilities, leading to fatal accidents and severe liabilities. Drug screening plays a crucial role in ensuring:
Safety: Drug and alcohol use can impair a driver's ability to operate their vehicle safely. Regular testing helps to prevent drug-impaired individuals from getting behind the wheel.
Compliance: Regular drug screening is a legal requirement under FMCSA regulations. Failure to comply can result in severe penalties for both drivers and employers.
Health: Regular testing can help identify drivers who may have substance abuse problems, enabling them to seek help and treatment.
Drug Screening Process
The drug screening process typically involves the following steps:
Collection: A urine sample is collected from the individual at a certified collection site. The process is designed to minimize the chance of adulteration or tampering with the specimen.
Learn about Hair Tests here.
Learn about Urinalysis Tests here.
Testing: The sample is tested at a laboratory certified by the Department of Health and Human Services (HHS). The standard test looks for marijuana, cocaine, amphetamines, opiates, and phencyclidine (PCP).
Review: A Medical Review Officer (MRO), a licensed physician with special training in substance abuse disorders, reviews the test results. If a test is positive, the MRO will contact the individual to determine if there is a legitimate medical explanation for the results.
Reporting: The MRO reports the verified results to the employer. Employers are required to take specific actions based on these results, such as removing a driver from safety-sensitive duties in case of a positive test.
When is Drug Screening Required?
Drug screening in the trucking industry is typically required in the following situations:
Pre-employment: Before a driver is hired, they must undergo a drug test.
Post-accident: If a driver is involved in a significant accident, they may be required to take a drug and alcohol test.
Random Testing: Employers are required to conduct random, unannounced drug tests throughout the year.
Reasonable Suspicion: If a trained supervisor or employer has reason to believe that a driver is under the influence of drugs or alcohol, they may require the driver to take a test.
Return-to-duty and Follow-up: If a driver has violated the drug and alcohol rules, they must take a return-to-duty test before resuming safety-sensitive duties. They will also be subject to unannounced follow-up tests for a period.
Price of Drug Screening for Truck Drivers
The cost of drug screening for truck drivers can vary widely based on factors such as the type of test, the location of the testing facility, and whether or not it's part of a larger pre-employment screening process. Generally, the cost can range anywhere from $30 to $100 per test.
How Long Does it Take To Get The Results
Negative Results
If the result of the drug test is negative, the turnaround time is typically faster.
Most negative screening results are received within 24-48 hours after the sample has been received by the lab.
Positive Results
If the initial test result is positive, further confirmation tests are carried out. This secondary confirmation test takes additional time. If the confirmation test also returns positive, the result, along with the specific drugs detected, is reported to a Medical Review Officer (MRO).
Unusual Circumstances
There may be instances where the sample provided by the truck driver is insufficient, diluted, or otherwise unsuitable for testing. In such cases, retesting might be necessary, which would add more time to the process.
Backlogs and High Volume
Sometimes labs experience high testing volumes or other operational delays, which could extend the turnaround time.
External Links
What tests are required and when does testing occur? – FMCSA Article – click here.
Listen to The Article Here
How Accurate is Drug Testing for OTR Truck Drivers? Video by Stay In Your Lane Podcast
Was this article helpful?