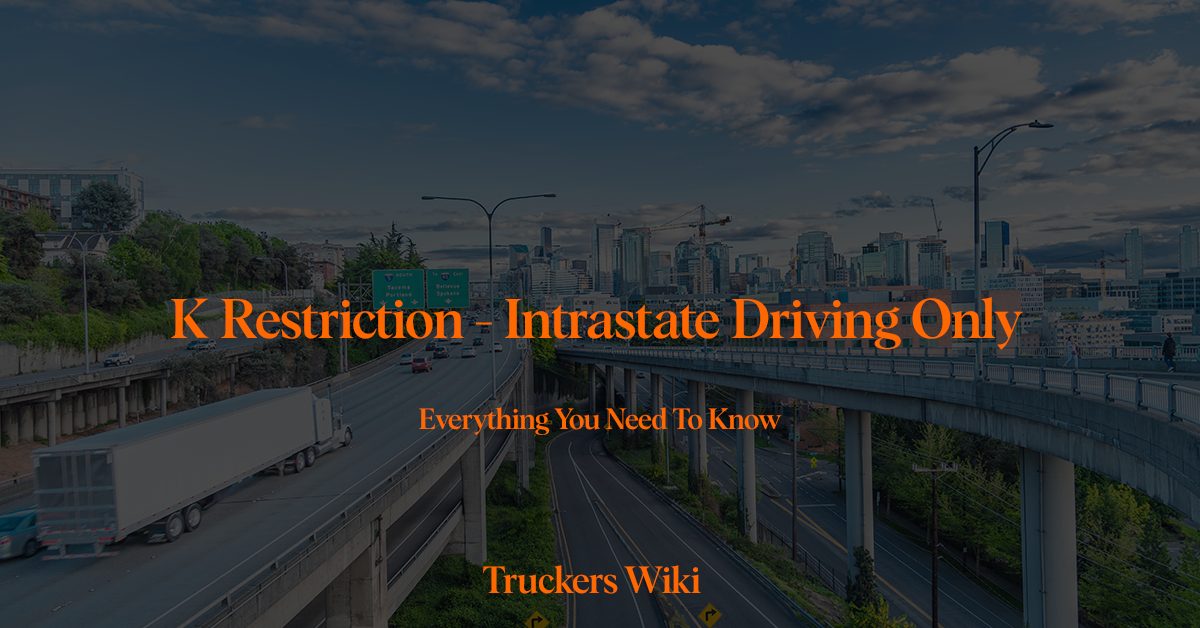 What is K Restriction on CDL – Understanding the Intrastate Only
The K restriction on a CDL means you're authorized to drive commercially only within the state where your license was issued. This is known as intrastate driving.
The restriction often stems from age constraints or medical reasons where the driver has a federally disqualifying medical condition.
For example, drivers aged 18-20 might only be permitted to operate intrastate and will have a K restriction until they turn 21. At that point, they can apply for interstate driving privileges.
Interstate driving involves crossing state lines or transporting cargo or passengers from one state to another, while intrastate driving refers to commercial driving that exclusively occurs within one state.
Lifting the K Restriction Off CDL
In terms of lifting the K restriction, it is often tied to the driver's medical status. If a driver's medical condition improves such that they meet the Federal Motor Carrier Safety Administration's (FMCSA) interstate medical standards, the K restriction may be removed, allowing the driver to operate commercially across state lines.
If your medical condition improves to meet Federal Motor Carrier Safety Administration interstate medical standards, you can get the K restriction removed. 
Consult a Certified Medical Examiner
Start by visiting a certified medical examiner listed on the FMCSA's National Registry.
Pass the DOT Medical Examination
The examiner will conduct a thorough medical check to ensure you meet the required standards.
Obtain Your DOT Medical Certificate
This certificate is proof of your fitness for interstate commercial driving.
Visit Your State's DMV
Bring your intrastate CDL, DOT medical card, a completed CDL application form, and any required endorsements for the vehicle you plan to operate​
Implications of the K Restriction
The presence of a K restriction on a CDL can have a significant impact on a driver's employment opportunities if the driver is interested in OTR or Regional runs. Many commercial driving jobs, particularly in long-haul trucking, require drivers to travel between states. A K restriction would exclude a driver from these types of roles.
However, many opportunities still exist for intrastate commercial drivers. Local delivery services, public transportation, and many construction-related driving jobs typically fall within the boundaries of a single state. Thus, a driver with a K restriction can still find a wide range of driving opportunities.
Working with the K Restriction
While the K restriction does limit a driver to intrastate driving, it doesn't mean the end of a commercial driving career. Many states have bustling intrastate commercial driving sectors, providing ample opportunity for those with a K restriction.
The Bottom Line
The K restriction on a CDL plays a vital role in ensuring that all commercial drivers on the road are medically fit to operate their vehicles safely under the conditions they are likely to encounter. Although it limits the scope of a driver's operation to the issuing state, it does not negate the potential for a rewarding career in commercial driving. 
FMCSA on K restriction.
Shortly, yes. If the K restriction is due to age requirements you can remove it as soon as you meet the requirement age.
If it is due to medical reasons, it really depends on DOT requirements. 
Listen to The Article Here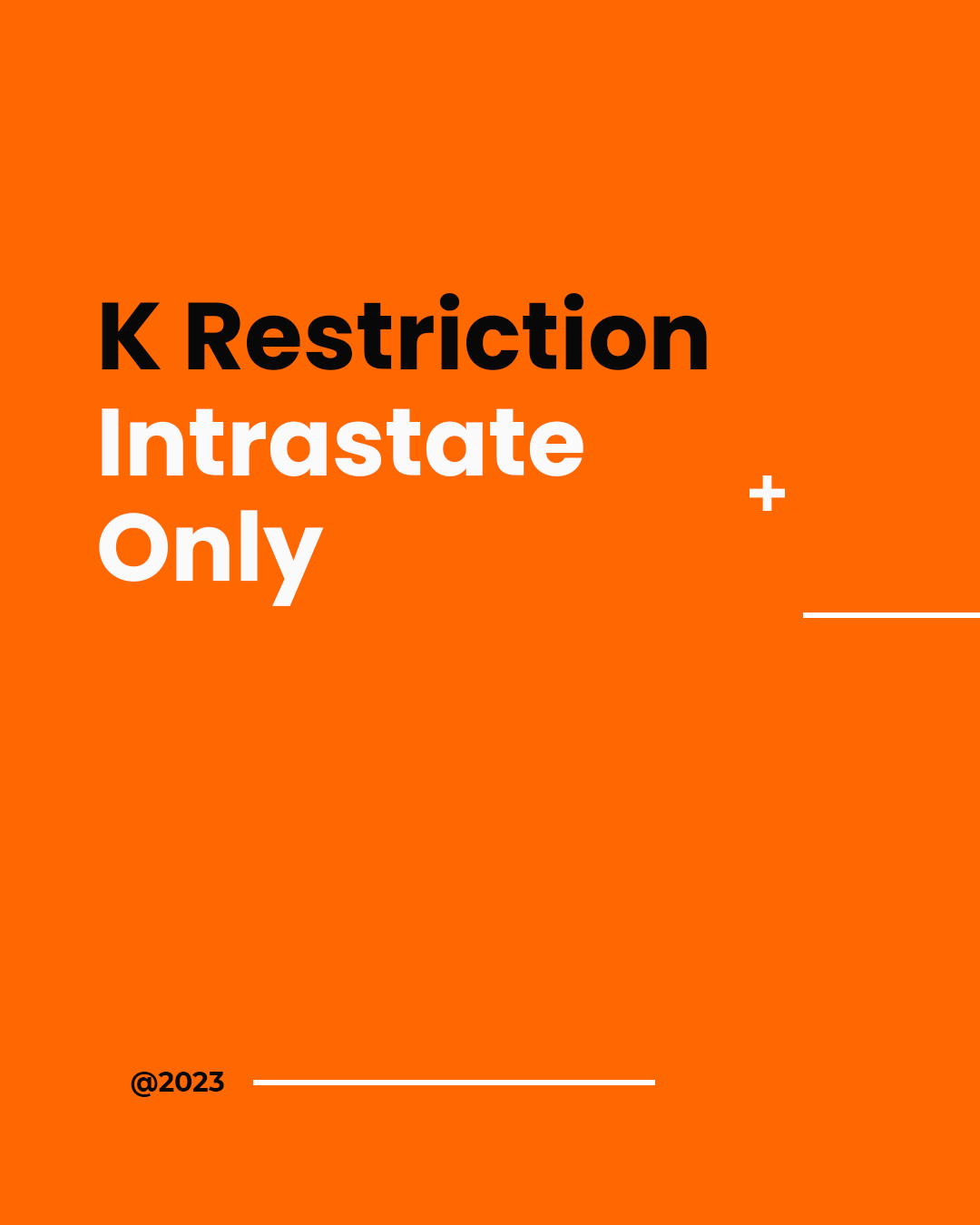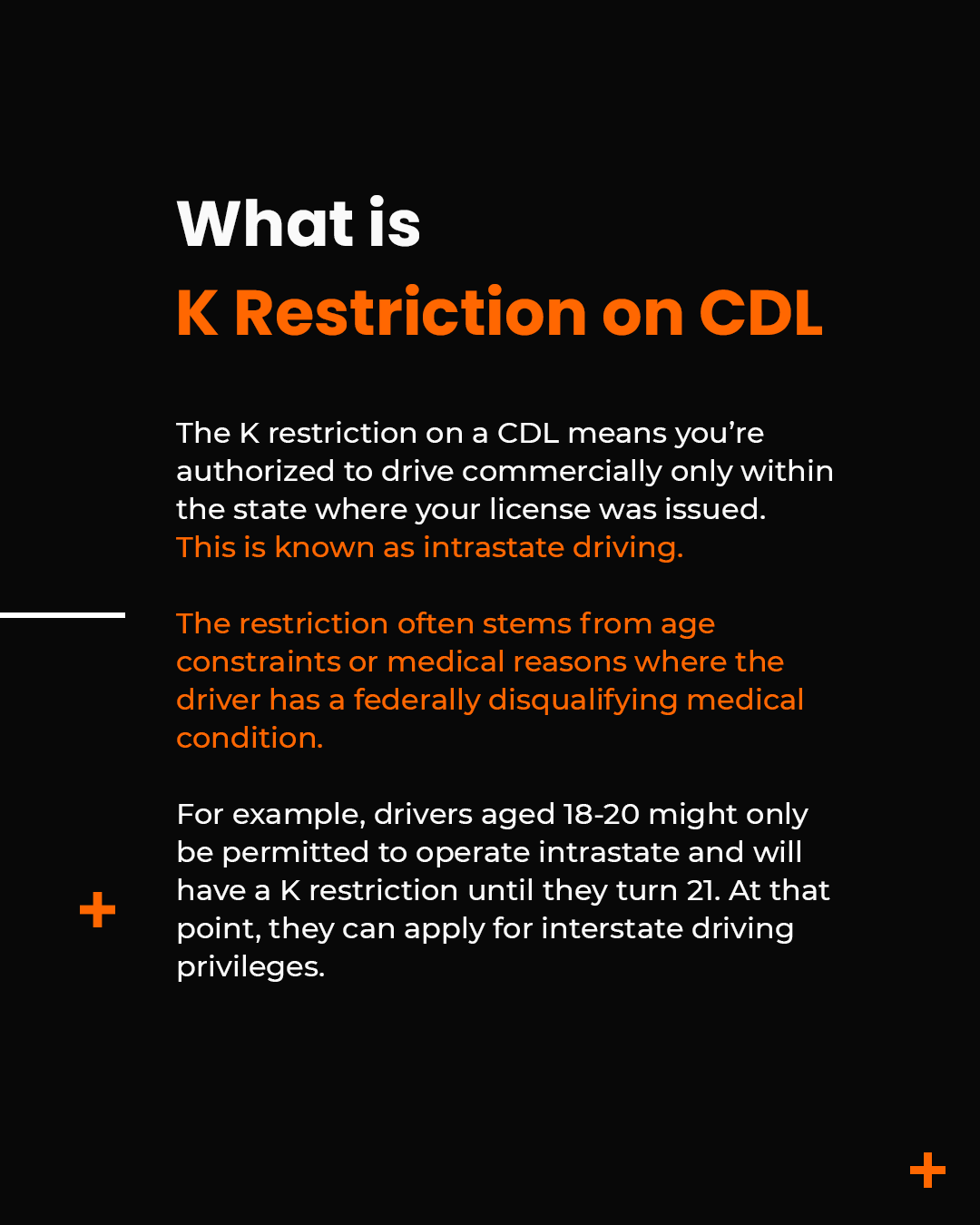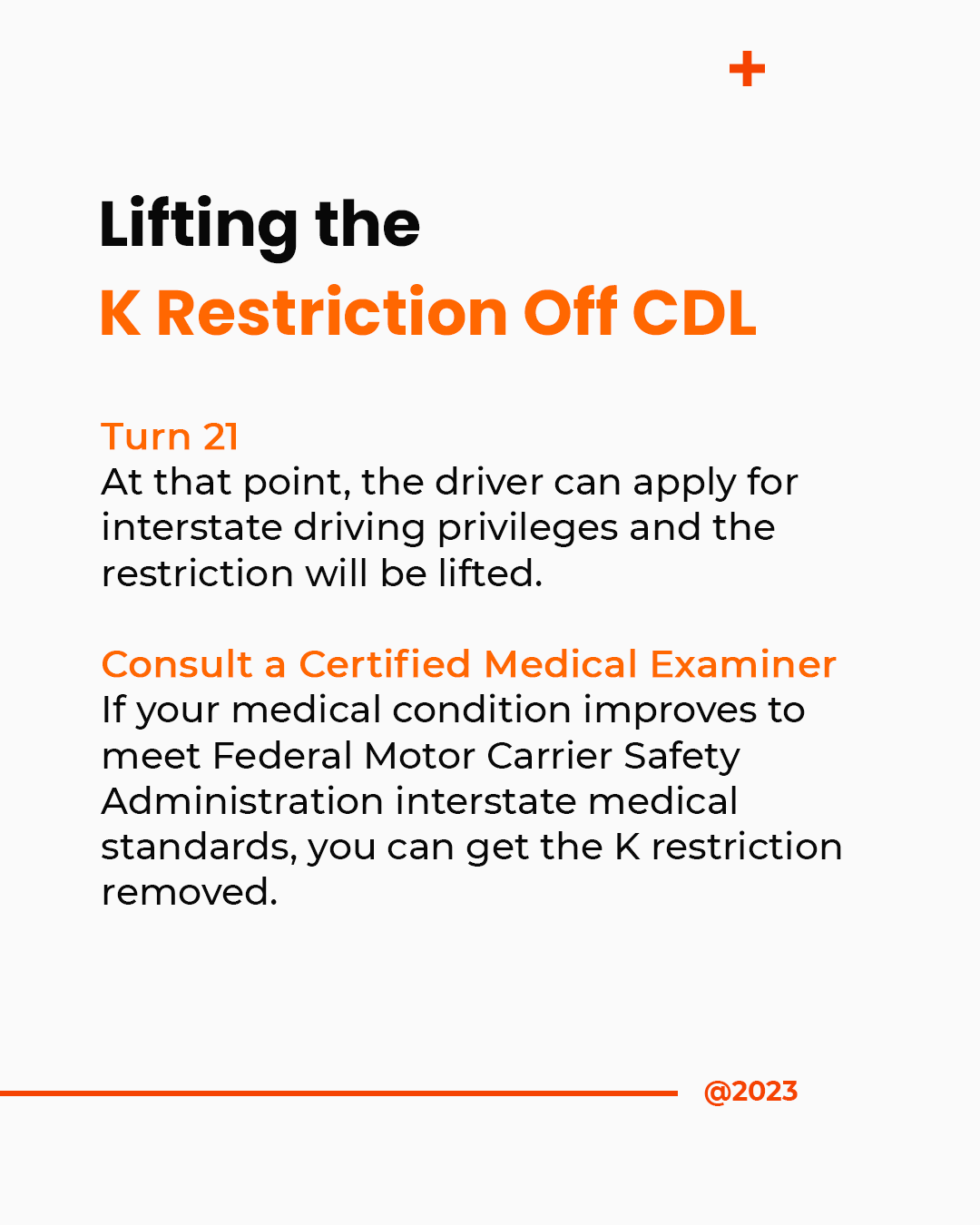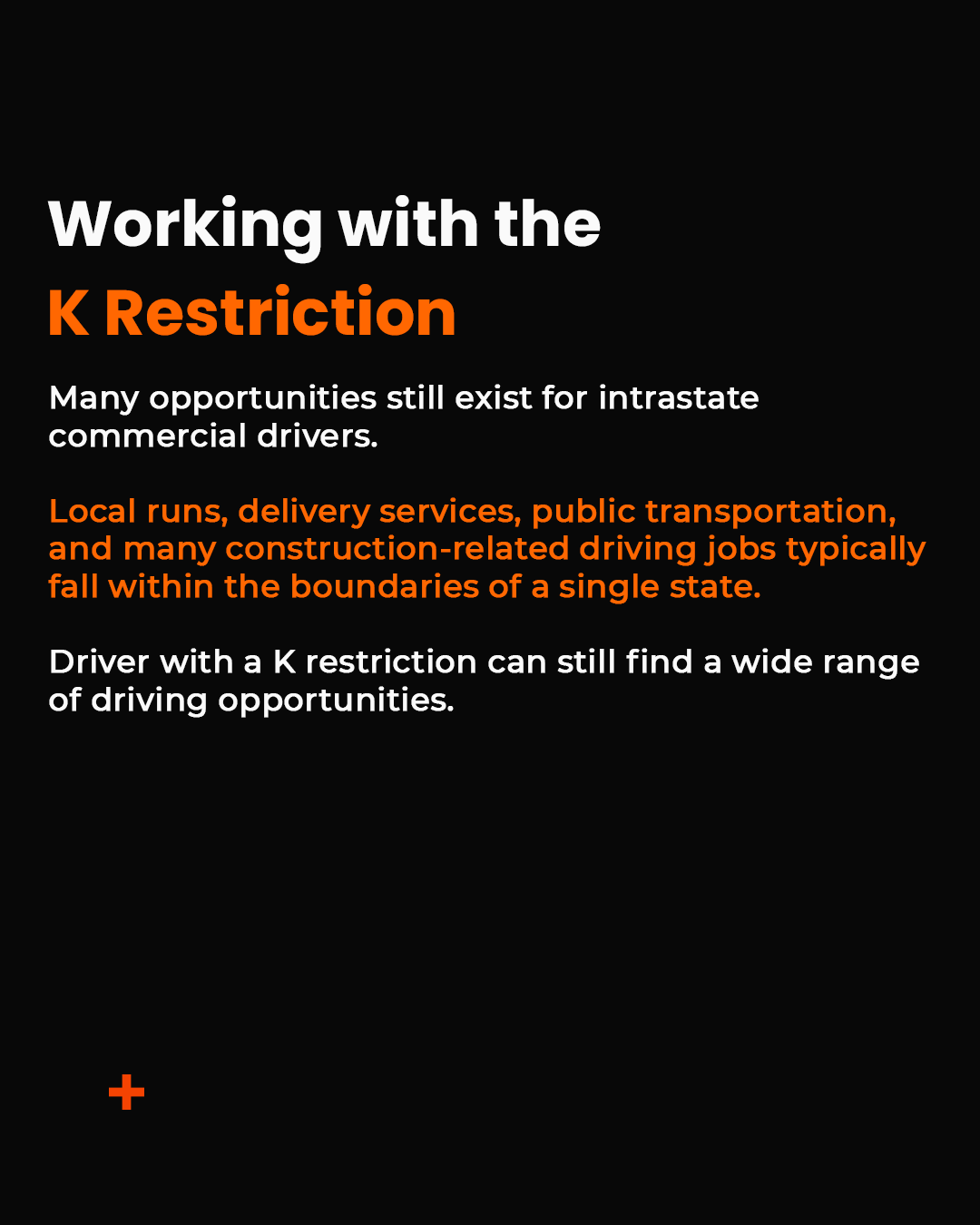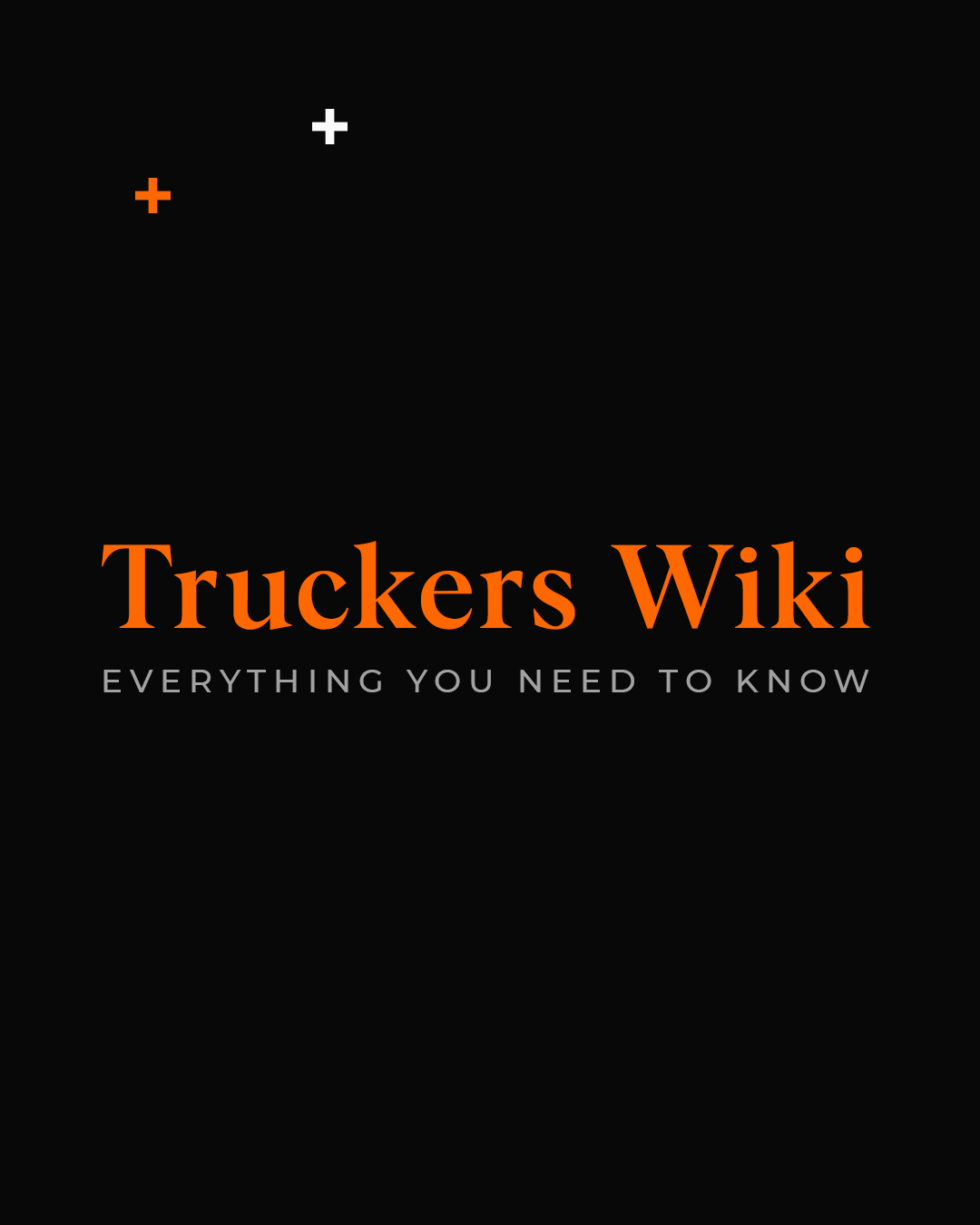 Was this article helpful?