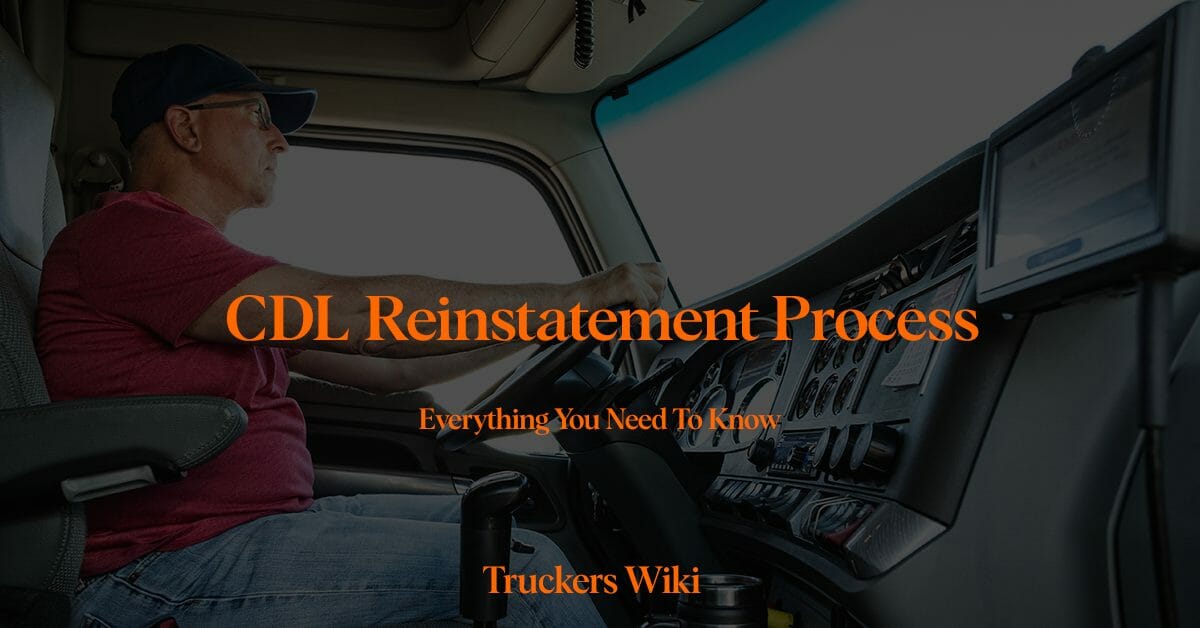 How to Get CDL Back After Suspension
Getting your CDL back after suspension can seem like a daunting task, this article will help you understand the CDL reinstatement process.
CDL Reinstatement Process
While the exact reinstatement process can vary depending on state laws and regulations, there are common steps that many drivers will need to complete:
Complete the Suspension Period: You must first complete the entirety of your suspension period. Driving a CMV before your suspension period is over can lead to more severe penalties.

Pay the Reinstatement Fee: Most states require a reinstatement fee to be paid before a suspended CDL can be recovered. The cost can vary, so you should check with your local Department of Motor Vehicles (DMV) or equivalent authority to know the exact fee.

Provide Proof of Insurance: In many cases, drivers must show proof of future financial responsibility. This is often done through filing an SR-22 form with the state. An SR-22 is a document provided by your insurance company that verifies you have purchased the minimum liability insurance required by your state.

Retake Examinations: Some states require drivers to retake the CDL knowledge and skills tests as part of the reinstatement process. This typically includes a written exam and a road skills test.

Complete Required Courses: Depending on the reason for suspension, some states might require drivers to complete certain educational or remedial courses, such as defensive driving or drug and alcohol education programs, as part of reinstatement.
Courses
Defensive Driving Courses: These courses teach driving skills that can help you avoid accidents and traffic violations. They often cover topics such as following distances, reaction times, mirror usage, scanning techniques, and hazard recognition.

Substance Abuse Program: If your CDL was suspended due to a DUI or drug-related offense, you will be required to complete a Substance Abuse Program (SAP). It is another important part of the process for CDL reinstatement, particularly for drivers who have violated the Federal Motor Carrier Safety Administration's (FMCSA) drug and alcohol regulations.
Click here to learn more about SAP.

Traffic School: Similar to defensive driving courses, traffic school usually covers general safe driving practices, but with an emphasis on understanding and following traffic laws and regulations.
Learn more about traffic school programs on TSO.

Driver Improvement Programs: These courses are designed to refresh your knowledge of driving laws and practices. They might cover a range of topics, including defensive driving techniques, state traffic laws, and the latest best practices in the trucking industry.
Reinstatement Following DUI Suspensions
For drivers whose CDL was suspended due to a DUI, the reinstatement process may include additional requirements. In addition to the general steps above, these might include completing a state-approved DUI education or treatment program, installing an ignition interlock device on your vehicle, or even serving jail time.
Bottom Line
Regaining your CDL after a suspension can be a complex process that requires time, money, and effort. The best course of action is always to drive safely and responsibly to maintain your CDL. However, if you do find yourself facing a suspension, understanding the reinstatement process can help you prepare for what's ahead. Always refer to your state's specific regulations or consult with a legal expert to get the most accurate information for your situation. Remember, the ultimate goal is not just to get back on the road, but to stay on the road safely and responsibly.
Listen to The Article Here
Was this article helpful?