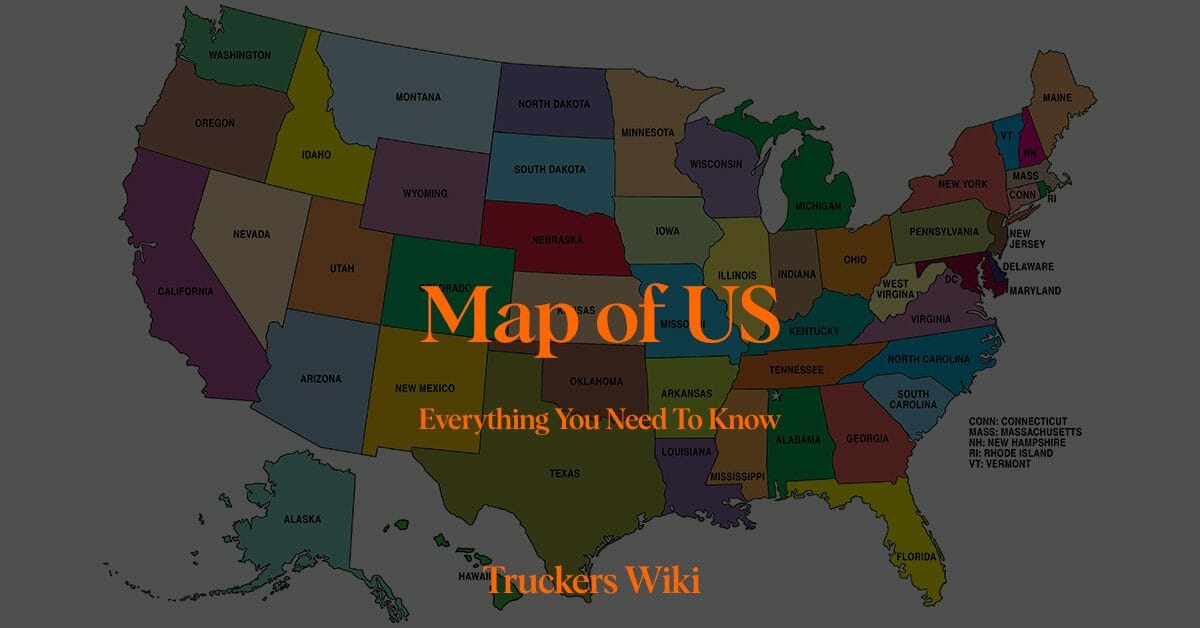 Map of US & Road Network Overview
The United States has a comprehensive road system that covers more than four million miles, including interstate highways, U.S. routes, and state and local roads. This network connects all 50 states, providing the backbone for the country's freight transportation system.
Interstate Highways: The U.S. Interstate Highway System, also known as the Dwight D. Eisenhower National System of Interstate and Defense Highways, is a network of controlled-access highways that forms a part of the National Highway System. Interstates, marked with a blue and red shield, are the main routes for long-haul trucking.
U.S. Routes: U.S. Numbered Highway System routes, usually marked with a black and white shield, are a network of roads and highways established in 1926. While they have been largely replaced by the faster Interstate highways for cross-country travel, these routes still serve important regional transportation links.
State and Local Roads: These roads, maintained by state and local governments, play a crucial role in connecting towns, cities, and rural areas to the main highway system.
Regions of USA
West
This region is vast, stretching from the Pacific coastline to the Rocky Mountains. It includes:
Pacific States: California, Oregon, Washington, Alaska, and Hawaii.
Mountain States: Idaho, Montana, Wyoming, Nevada, Utah, Colorado, Arizona, and New Mexico.
Southwest
A region characterized by deserts and unique cultural influences, especially from Native American and Spanish heritage. It typically includes:
Texas, Oklahoma, Arizona, and New Mexico. (Note: Arizona is sometimes classified in both the Southwest and the West, specifically among the Mountain States.)
Midwest
Often called "America's Heartland," this region is known for its agriculture and industrial sectors. It's generally divided into:
Upper Midwest: Ohio, Indiana, Illinois, Michigan, Wisconsin, Minnesota, Iowa, Missouri, North Dakota, and South Dakota.
Lower Midwest (or sometimes considered part of the South or West): Kansas and Nebraska.
Southeast
A region known for its diverse landscapes, from the Appalachian Mountains to the Atlantic coastline. It consists of:
Kentucky, Tennessee, North Carolina, South Carolina, Georgia, Alabama, Mississippi, Florida, Virginia, and West Virginia. (Note: Some might also include Louisiana, Arkansas, and even Oklahoma, though these states are often associated more with the South or Southwest.)
Northeast
A historically rich region stretching from the northern Mid-Atlantic to New England. It includes:
New England: Maine, Vermont, New Hampshire, Massachusetts, Rhode Island, and Connecticut.
Mid-Atlantic: New York, Pennsylvania, New Jersey, Delaware, and Maryland.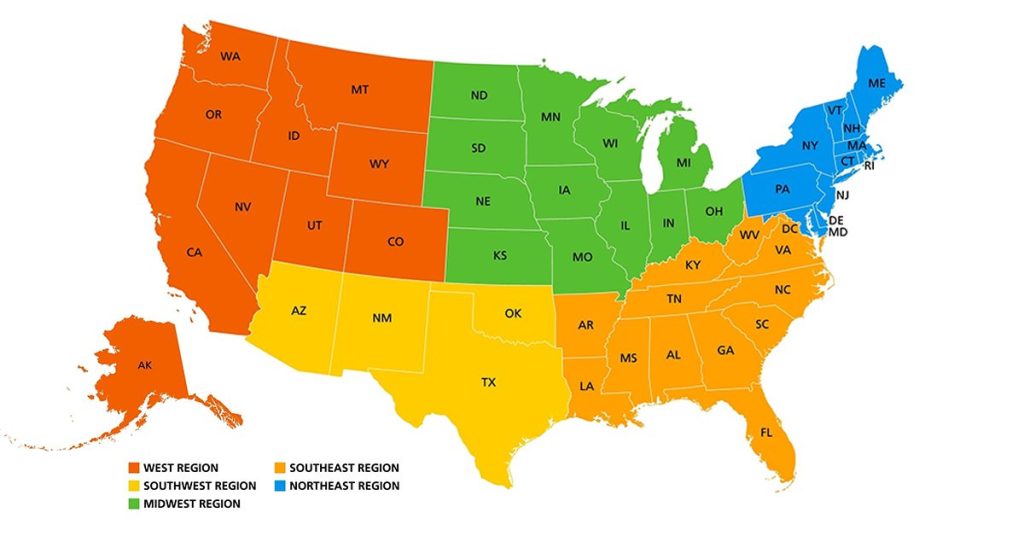 48 States in Trucking
The term "lower 48 states" or all 48 states, refers to the 48 contiguous U.S. states located on the North American continent south of the U.S. border with Canada. These states stretch from the Atlantic to the Pacific Ocean, covering a diverse range of landscapes and climates. They exclude the non-contiguous states of Alaska and Hawaii and the U.S. territories. These states encompass bustling urban metropolises, sprawling suburbs, agricultural heartlands, and vast wilderness areas. Their economies are just as varied, with dominant industries ranging from finance and tech in coastal regions to agriculture and manufacturing in the interior. The "lower 48" accounts for approximately 1.9 billion acres of land and houses a significant majority of the U.S. population. Despite their geographic, cultural, and economic diversity, these states are united through an integrated transportation network, mutual legal frameworks, and shared national history and identity.
Major U.S. Regions and Highways
The East Coast: The I-95 corridor, stretching from Florida to Maine, is one of the most heavily trafficked routes in the U.S. It passes through major cities such as Miami, Washington D.C., Philadelphia, New York, and Boston.
Midwest: I-80 and I-90 are two major interstates running through the Midwest, connecting cities like Chicago, Cleveland, and Omaha. These roads are vital for transporting goods from the coastal areas to the heartland.
The South: I-10 and I-20 are significant routes here, running from Florida to California and South Carolina to Texas, respectively. These roads cross major southern cities like Jacksonville, New Orleans, San Antonio, and Houston.
The West Coast: I-5 runs along the West Coast from Canada to Mexico, servicing major cities like Seattle, Portland, San Francisco, and Los Angeles. I-10 and I-40 are key east-west routes.
Tips for Truckers & Dispatchers Navigating the U.S. Map
Map Reading: Understanding how to read a physical map or digital map interface is crucial. Familiarize yourself with map legends, scales, and symbols.
Planning Routes: Plan your routes ahead of time considering factors like distance, estimated travel time, road restrictions, and weather conditions.
GPS and Trucking Apps: Use truck-specific GPS systems and apps that provide real-time traffic updates, truck stops, weigh stations, and restrictions like low bridges or weight-limited roads.
Rest Areas and Truck Stops: Familiarize yourself with rest areas and truck stops along your route for safe parking, refueling, and breaks.
Regulations: Understand Hours of Service (HOS) regulations and plan your trip accordingly to stay compliant.
The Bottom Line
The U.S. road map is an essential tool for any trucker, especially those new to the industry. Understanding the country's intricate road network, planning your routes, and using technology can significantly enhance your efficiency, safety, and job satisfaction. As with any skill, mastering U.S. geography and navigation takes time and practice but is undoubtedly a rewarding investment for any professional truck driver.
Listen to The Article Here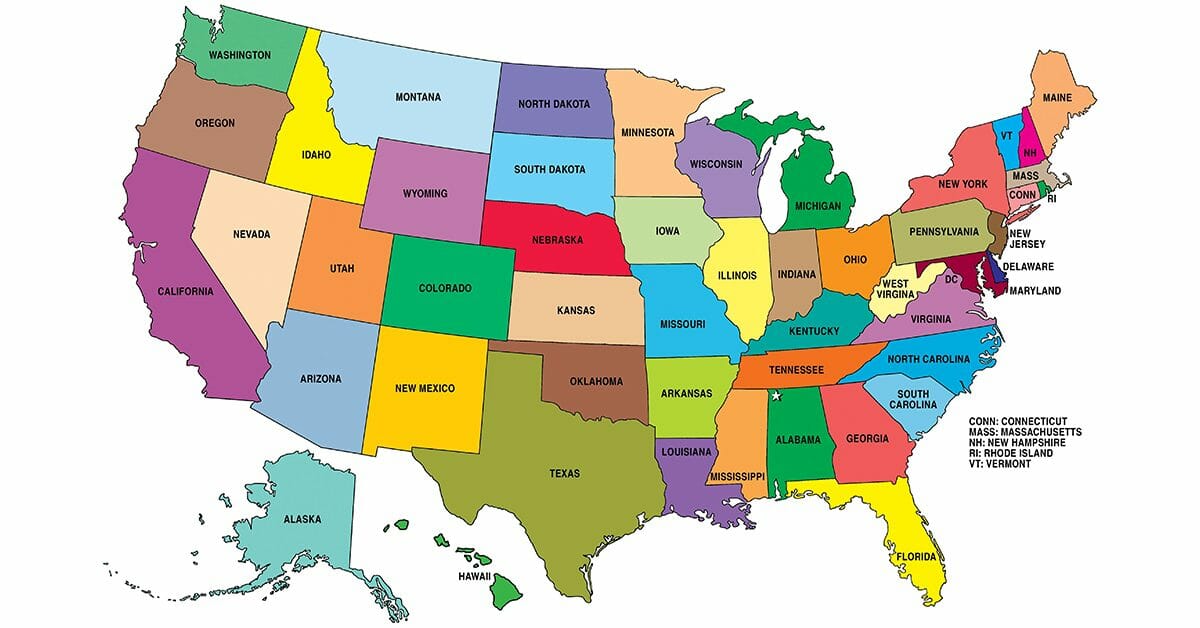 Alabama
Alaska
Arizona
Arkansas
California
Colorado
Connecticut
Delaware
Florida
Georgia
Hawaii
Idaho
Illinois
Indiana
Iowa
Kansas
Kentucky
Louisiana
Maine
Maryland
Massachusetts
Michigan
Minnesota
Mississippi
Missouri
Montana
Nebraska
Nevada
New Hampshire
New Jersey
New Mexico
New York
North Carolina
North Dakota
Ohio
Oklahoma
Oregon
Pennsylvania
Rhode Island
South Carolina
South Dakota
Tennessee
Texas
Utah
Vermont
Virginia
Washington
West Virginia
Wisconsin
Wyoming
Was this article helpful?